Jaden Smith, Our Gender-Fluid Bae, Has No Time for Gendered Clothes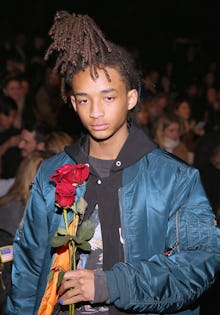 Finally, someone who's willing to reach across the aisle — the clothing aisle, that is. 
In an interview for British GQ Style's spring and summer issue, gender-fluid bae Jaden Smith came out against the idea of separate sartorial styles for men and women. 
"I'm just saying that I've never seen any distinction," Smith told GQ Style. "I don't see man clothes and woman clothes, I just see scared people and comfortable people."
This is not the first time Smith has exhibited a chill attitude about fashion. In November 2014, he told New York Times Magazine that he and his sister, Willow Smith, don't really care about what they wear. 
"I like to wear things that I make, but I throw it on as though I was throwing on anything," he told the publication then. "It looks cool, sometimes." 
Smith has made somewhat of a career in blurring gender lines in fashion. He became the new face of Louis Vuitton's womenswear campaign in January and romped around Coachella 2015 with a flower crown. 
Smith is not alone in his views: Teens today care a lot less about gender than older generations. Mic recently reported while 23% of millennials feel gender is meaningless, over one-third of teens will tell you that gender doesn't matter, according to a J. Walter Thompson Innovation Group survey shared with Vice. And less than half — 44% — of teens buy clothes for their specified gender. 
The future is now, y'all.