Stacey Dash Says Donald Trump Isn't Violent, He's Just "Street"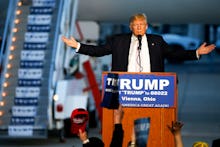 Just when you thought the 2016 presidential race couldn't get any more exhausting, here's actress and Fox News contributor Stacey Dash on multi-billionaire reality TV star Donald Trump: 
This hottest of hot takes appeared Friday on Dash's Patheos blog and got picked up Tuesday by Mediaite.
The context is irrelevant, but for what it's worth, Dash was in the midst of defending Trump, the  frontrunner for the Republican presidential nomination, against those who would hold him responsible for the violence that occurs at his political rallies with troubling frequency.
Last week, a protester at a rally in Fayetteville, North Carolina, was sucker-punched in the face by a Trump supporter as he was being led out of the arena by security:
Casual. Here are some nuggets from Dash's impassioned defense:
"First of all, he's not responsible for what every random guy does — out of thousands," she wrote. "Second of all, he's not violent, he's just 'street.' He was born in Queens.
"Of course, that doesn't mean he was hustling on the street, dodging bullets. I know he had a privileged upbringing that no doubt isolated him from much of the violence and strife that some people grew up with in the city."
Trump, for the record, started his business empire using a "small loan of a million dollars" from his father. Here's our man of the "street" speaking to a crowd of supporters in front of his private jet:
"I'm not saying that Donald Trump grew up slamming people's heads into walls," Dash wrote, stating what, perhaps, could not be more obvious. "But there is something about growing up in New York, a certain toughness instilled, a certain level of 'street' that can't be ignored."
Totally. Dash has courted controversy in the past with her support of Mitt Romney in 2012 and her suggestion that Black History Month should be eliminated. Now she's using her platform to convince us Trump is a Hood Superstar. What a time to be alive.
h/t Mediaite