Ohio Primary 2016: Bernie Sanders Comes Up Short Against Hillary Clinton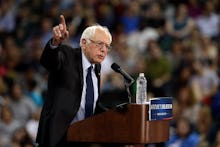 One week after upsetting Hillary Clinton in the Michigan primary, Bernie Sanders failed to recapture the magic in another Rust Belt state, losing the Ohio primary after a fiercely fought battle for the Buckeye State.
The Associated Press called the race for Clinton at 8:38 p.m. Eastern.
Read more: Ohio Primary 2016: Latest Polls and What to Expect in the Democratic and Republican Races 
A missed target: Not that long ago, Ohio looked like undisputed Clinton Country. She defeated then-Sen. Barack Obama there by 10 points in 2008, even after he'd built a formidable delegate lead over her, and was leading Sanders by 30 points mere weeks ago.
But Sanders' unsparing attacks on Clinton's past support for free-trade agreements, which opponents argue have decimated American industry, appeared to have gained traction in Michigan. Sanders reprised those attacks in Ohio, hoping to score another surprise win.
"Employers are saying to workers, 'You've got two choices: You can accept a reduction in wages and benefits, or else we are moving to China. Your choice,'" Sanders said at an Ohio State University rally this week. "Well, that is not a choice American workers should have to make. Not only did I vote against all of those trade agreements, I helped lead the opposition."
Clinton, by contrast, "has had a very different position on trade," he added.
Citing Sanders' support for "fair trade," popular Toledo-area Rep. Marcy Kaptur endorsed Sanders last week. Sanders also enjoyed the support of Nina Turner, a former state senator who mounted a high-profile campaign for Ohio secretary of state in 2014 and had previously supported Clinton.
The road from here: While Sanders' populist pitch may have helped narrow the gap between the two candidates, the Vermont senator found himself in a race against the clock — and Tuesday's results underscore the challenges he'll face making headway in other delegate-rich states where Clinton has a far longer history of involvement.
Still, that Sanders gave Clinton a run for her money in Ohio — where he was polling at all of 3% one year ago — is a testament to the formidability and durability of his progressive insurgency.