'Bachelor' Runner-Up JoJo Fletcher Is the New Bachelorette — When Does Season 12 Start?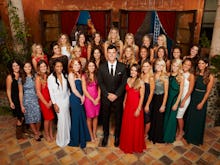 The winds of change are blowing in the Bachelor mansion. After season 20 of The Bachelor ended with perpetual "nice-guy" Bachelor Ben proposing to Lauren Bushnell on the show's finale Monday night, it was time to crown the next Bachelorette. During the After the Final Rose live special on ABC, it was revealed that runner-up JoJo Fletcher, who came devastatingly close to becoming Mrs. Ben Higgins, would be the 2016 Bachelorette.
Read: Sorry, Bachelor Ben Higgins, You Don't Actually Need a Dad's Permission to Propose
The upcoming season of The Bachelorette, starring JoJo herself, premieres on ABC on Monday, May 23. The news that JoJo would be the next Bachelorette came as a shock to many who had speculated that Caila Quinn, another favorite, would become the next star of the dating competition show.
Rumor has it that producers initially tapped Caila and then switched to JoJo last-minute, but Caila reportedly took the upset in stride. On Tuesday, after the announcement that JoJo would be the next Bachelorette, Caila tweeted out a photo of JoJo and Lauren B. together and said, "Congratulations to these beautiful girls! Sending love as the journey isn't over, it's only just beginning."
So get ready everybody, because season 12 of The Bachelorette premieres in two short months, and this time JoJo will be the one handing out the roses.