Ghana's 'Sex and the City' Is Giving African Designers Their Long-Deserved Recognition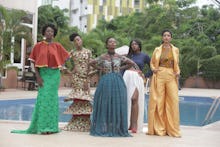 Carrie Bradshaw and her trio of girlfriends captured the imagination and closet envy of millions long after Sex and the City's run ended in 2004. However, not all fantasies are created equal, and Carrie and her conspicuously caucasian troupe of friends and lovers certainly weren't representative of every reality.
Enter An African City, set in Ghana's capital, Accra. The digital web series, whose second season launched in January, showcases a cosmopolitan city that is pointedly at odds with the poverty-stricken imagery that often leads Western conversations about Africa. By presenting a small slice of an incredibly large continent in a context that feels somewhat familiar to online viewers, series creator Nicole Amarteifio hopes to rectify some of these harmful and pervasive stereotypes. 
That includes some seriously amazing clothes.
"I got the idea for the series while watching Sex and the City," Amarteifio told Mic. "What would this show look like if set in Accra, Ghana? What would this show be like with characters of Ghanaian descent?"
Read more: Sex and the 'African City': A Digital Series Envisions Carrie Bradshaw in Ghana
A show about the trials and tribulations of modern African women from the diaspora would hardly be complete without enviable outfits. To find them, Amarteifio didn't have to look far. "There are so many talented fashion designers in Ghana but for some, their stories end in a small kiosk," she said. "For example, Chemphe Bea, I want to ensure her work is more visible than just the mannequins hanging outside of her kiosk. I want her work to be in global publications, visible for the world to see and buy."  
An African City's costume designer Afua Rida shares Amarteifio's desire to create an inclusive platform for talent working outside of mainstream markets. Rida is out to do what Patricia Field did in putting together some of the most iconic television looks to date on Sex and the City — she just makes it a point to use exclusively African designers. "It's a platform for all artists throughout Africa or the African diaspora," Rida tells Mic. "I want the world to know about our talent in fashion, in music, in home decor, in everything."
The outfits aren't coming exclusively from Ghana, either. They're coming from all over Africa and from Africans living abroad. Last season Korlekie, a U.K.-based Ghanaian brand, made an appearance alongside Studio 189, a Vogue-approved fashion brand masterminded by Rosario Dawson and Abrima Erwiah. This season, Ghana-based Totally Ethnik makes a reappearance as well as Christie Brown's Accra-made modern-meets-traditional staples.
Despite Africa being home to a number of gifted designers, in many ways, breaking into the international fashion circuit is still a bit like rowing upstream with no oars. Unlike established fashion week destinations like Paris, Milan or New York, global media has yet to recognize Accra, or even the continent as a whole, as a major player. It's a fact that adversely affects the visibility of homegrown talent.
Still, there have been a number designers who have managed to break through. Success stories like Ozwald Boateng and Virgil Abloh, both of Ghanaian descent, Nigerian-born Duro Olowu, and Tanzanian-English Agape Mdumulla of Agi & Sam have managed to captivate both audiences and fashion critics alike.
From hypnotic color stories to voluminous, ruffle-and-texture-heavy silhouettes, each of the designs on An African City reflects the guiding ideology of the series, seamlessly combining modern narratives with age-old traditions, encompassing the past while embracing the future. "The show tells the story of the women of Africa," Rida said. "We can only imagine them wearing the best fashion of the continent."