Lauren B.'s "After the Final Rose" Dress Is Basically Sold Out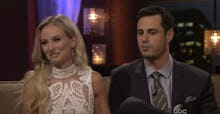 The Bachelor isn't just our national TV pastime, it's also become a pivotal source of fashion inspiration. 
That might sound absurd or just plain dismaying, but it's true: After the season 20 finale of The Bachelor Monday night, interest in the featured clothing spiked — specifically, winner Lauren B.'s white lace dress, worn on the After the Final Rose special. 
"As soon as Lauren B. (yes we're still calling her that) appeared on TV last night, my phone/email/Twitter/Facebook blew up with requests for Lauren's white lace body con dress," fashion and TV blogger Dana Weiss, better known as Possessionista, wrote in a post on Tuesday.
That interest drove people to the internet, where the dress is almost completely sold out.
The actual dress, as identified by Possessionista, is by Jonathan Simkhai. For sale on Amazon Fashion, the white Tower Lace Dress is going for $1,195. (But hey, free shipping!) 
There are currently only three sizes available (yes, Mean Girls-style — sizes 2, 4 and 6), and there is only one dress left in each size.
"This dress is one of our top performing styles and is sold out at nearly all of our retailers," a rep for Jonathan Simkhai told Mic.
For those viewers who wanted something a little more affordable, Possessionista found a "dress for less" option. The cheaper suggestion is by ASOS and is selling for $95. 
And yes, with the exception of size 12, the dress is entirely sold out.
One thing is clear: Now, more than ever, we turn to TV for our style inspiration. 
That's the reason, for one, that blogs like Possessionista even exist. Weiss has been chronicling the clothing of The Bachelor and The Bachelorette, among other TV shows, since 2009, when "I found myself catching up on TV shows and Googling the clothes the characters were wearing," she told Ravishly.
The audience for her fashion sleuthing has grown massively, as have sites like WornOnTV and Spylight that chronicle TV style. That includes fictional characters, like the Pretty Little Liars gang, but also reality TV stars, whose clothes are even more accessible considering they're purchased on a real-life budget. 
As we watch more TV, these are the people we take style cues from. The fashion on Pretty Little Liars has become a fifth character on the show, with certain trends like feather earrings trickling down to stores; the sleek clothing of Scandal has prompted shoppers to seek the look for less.
We even find it with hair. As Racked recently reported, female characters on today's major TV shows tend to have the same hairstyle — smooth but bouncy, straight on the top, with loose waves on the bottom. "This is the kind of hair that does not occur in nature," writes Racked's Julia Rubin. But it is the hair that women are seeking when they trot over to Drybar or order Glamsquad blowouts on demand.
As for flashy Bachelor fashion? Apparently we want that too, enough that shoppers have made a high-necked, lacy white dress fly off the shelves in less than 24 hours.
Think magazine or runways are our major source of fashion inspiration? Nah — soon enough, it might be Netflix or Hulu that inherit that power.
Mar. 16, 2016, 11:22 a.m.: This story has been updated to include comment from Jonathan Simkhai.