This Calvin Klein Ad Is Being Labeled as "Gay Propaganda" by Some Russians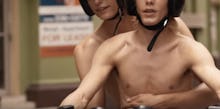 And it's not because the ad is too sexy. Rather, this new Calvin Klein fragrance spot has attracted Russian authorities' attention because it features two same-sex couples, and as such, may violate the country's anti-LGBTQ propaganda laws. 
The less-than-salacious CK2 advertisement spotlights two straight couples, a lesbian couple and a gay couple. The lesbian couple flashes oncoming traffic from a highway overpass and the gay couple motorcycles shirtless down a street, but only the straight couples actually kiss. 
Read more: This Teen Successfully Sued Her School for Banning Her Pro-LGBT Shirt
Calvin Klein was aiming for an ad that embodies "the thrill of life and celebrates the diversity of connections between two people," according to Pink News. In Russia, it seems, diverse connections are not things to be celebrated.
According to Pink News, law enforcement received the tip from angry Arkhangelsk YouTube viewers, who saw the advertisement and reported it; if found guilty, the brand could face a $15,000 fine. 
The country's ban on so-called gay propaganda went into effect in June 2013, making illegal the "distribution of information that is aimed at the formation among minors of nontraditional sexual attitudes, attractiveness of non-traditional sexual relations, misperceptions of the social equivalence of traditional and non-traditional sexual relations, or enforcing information about non-traditional sexual relations that evokes interest to such relations." 
The ad, in presenting a picture of four happy couples setting would may be viewed as #RelationshipGoals without onlookers batting a lash, may violate the law on all aforementioned counts.