Marco Rubio Suspends Campaign After Falling to Donald Trump in Home State of Florida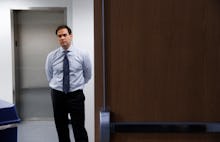 Even in a presidential election year as bizarre as 2016, it's a stinging embarrassment: Marco Rubio on Tuesday saw his home state of Florida become another notch on Donald Trump's belt.
Trump defeated Rubio in a true landslide. The Associated Press called the race for the national frontrunner at 8 p.m. Eastern.
Rubio swore before Tuesday's voting that he'd continue on to the upcoming Utah contest no matter what happened in the Sunshine State, but he withdrew from the race in a speech shortly after the final polls closed.
"While it is not God's plan that I be president in 2016, or maybe ever," Rubio said, "I ask the American people, do not give into the fear. Do not give into the frustration."
After his shellacking on his home turf, staying in the race as a competitor — versus a spoiler or to use the delegates he's collected as leverage — would have been hard if not impossible to justify.
Not his time: Rubio, just 44, sold himself to voters as the man who could lead the Republican Party and the nation into a "New American Century." 
The son of Cuban immigrants and father of four promoted himself as having a balance of youthful energy and gravitas that would infuse the GOP with new life, unite a fractured party and capture the White House. 
But the path was complicated from the start: Rather than wait his "turn," Florida's junior senator jumped into a presidential primary contest that pitted him against his onetime mentor, former Gov. Jeb Bush.
Bush dominated the GOP fight for Florida and its 99 delegates in poll after poll.
He soon became a magnet for brutal attacks from Trump, and Bush found himself knocked out of the race entirely after a weak finish in South Carolina.
Rubio had stumbled badly ahead of the first in the nation New Hampshire primaries, malfunctioning during a televised debate. 
He bounced back with some big-ticket endorsements in South Carolina, spurring talk of renewed "Marcomentum," but still lost to Trump there — and subsequently everywhere else except Minnesota, Puerto Rico and the District of Columbia.
Trumped: All the while, Trump surfed a massive wave of voter anger and hunger for an outsider to victory after victory. 
Along the way, he did not spare Rubio, baiting him as "Little Marco," openly mocking him (and his water consumption) at rallies and airing TV spots critical of his Senate tenure.
Meanwhile, another young senator of Cuban heritage, Texan Ted Cruz, was having better luck presenting himself as the party's best hope of stopping Trump from running away with the nomination.
While Rubio plodded through a string of weak finishes, Cruz was picking up wins in his home state of Texas along with Kansas, Alaska, Oklahoma and Maine.
Rubio did brawl with Trump in a memorable debate showdown that featured shudder-inducing cracks about spray tans and body parts.
He later said he regretted getting into the gutter — a tactic that had ended up the political equivalent of walking into a buzzsaw for many who fell out of the GOP primary ahead of Rubio.
For Rubio, the Sunshine State defeat would be hard to spin as anything but the sunset of his presidential hopes — at least for the 2016 cycle.