STI Testing Without Insurance — Here's What You Can Expect to Pay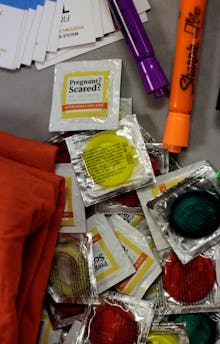 Even with the Affordable Care Act's passage in 2010, health insurance remains outside the reach of many. Which means, among other things, that access to routine screenings for sexually transmitted infections is off the table for sizable sectors of the U.S. population — some 19.7 million new STIs are diagnosed annually, the American Sexual Health Association reported. Don't want to be one of those cases? Luckily, there places you can go for STI testing without insurance. 
Read more: Tinder Has Added an STD Testing Locator Feature — Here's How to Find It in the App
The best bet for anyone who's looking to get an STI screening but doesn't have insurance is to find a free testing center — such as FreeSTDCheck.org. The Centers for Disease Control and Prevention also has a database to help people find free and local testing sites. 
Planned Parenthood offers low and no-cost testing for patients who lack health insurance. They also give out free (or very affordable) condoms, which offer an advisable first step to staying STI-free, although they don't preclude the necessity of testing.
To get an STI test at a doctor's office, expect to pay between $50 and $200 depending on the test, without insurance. Companies like Safer STD Testing, which helps patients set up tests, do allow patients to pay out-of-pocket for services, but the cost varies — a trial pricing run conducted by Mic put the cost of a randomly selected test at $338.83 without insurance. 
At-home STI screenings are also a possibility, but often less reliable than those administered by medical professionals. MyLab Box offers mail-order tests that span the pricing spectrum, selling for between $73 and $285, depending on the specific complaint. 
For HIV-specific concerns, insurance-less options are many. There's OraQuick, the only FDA-approved at-home STI test, which costs around $45 and can be purchased online or at a number of drugstore chains. Because it's a second-generation test, it has a three-month window, which means it can only be used three months after exposure. A fourth-generation HIV test can detect the virus much more quickly (0 to 20 days), but costs more — $139 to order.