2016 Primary Results: Here's Who's Winning Every Democratic and GOP Race in March 15 Races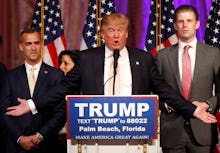 Democratic and Republican voters headed to the polls in five states on Tuesday, setting the stage for a potentially decisive turning point in the wildly unpredictable 2016 primary season.
With delegate-rich races in Florida, Ohio, North Carolina, Missouri and Illinois, long-shot candidates like Democratic hopeful Bernie Sanders and Republicans John Kasich and Marco Rubio hope to reset the narrative of a race commanded by the two parties' frontrunners, Hillary Clinton and Donald Trump.
Follow along as Mic keeps tabs on the evening's latest developments. All times are Eastern.
1:56 a.m.: A pause in the Missouri cliffhanger.
Counting in Missouri has stopped for the night, CNN quoted state officials as saying. The tally will continue with absentee and provisional ballots. 
The latest figures from the Missouri secretary of state's office show Trump leading Cruz by 1,726 votes in the GOP contest and Clinton up 1,531 votes over Sanders in the Democratic primary.
We're signing off for the night, but we'll be back with all the latest on this wild election. 
— Celeste Katz
12:29 a.m.: Clinton wins Illinois.
In her fourth win of the night, Clinton has prevailed in the Land of Lincoln, the AP projects. — Luke Brinker
11:29 p.m.: The trolling continues apace.
— Stefan Becket
10:46 p.m. Cruz speaks in Houston, says everything is just fine.
Cruz hadn't won any contests when he took the stage in his home state of Texas, but was running neck and neck with Trump in Missouri.
He praised former rival-turned-endorser Carly Fiorina as extraordinary: "Such a tremendous leader — and I got to tell you, she terrifies Hillary Clinton. Hillary tosses and turns in her jail cell thinking about her."
Although he hadn't yet racked up a new victory, Cruz called the night a good one: "We continued to gain delegates and continue our march."
He made an open appeal to the supporters of the vanquished Marco Rubio to join him in a united effort to take down frontrunner Trump.
"Starting tomorrow morning, every Republican has a clear choice. Only two campaigns have a plausible path to the nomination: Ours and Donald Trump's. Nobody else has any mathematical possibility whatsoever," Cruz said.
"Only one campaign has beaten Donald Trump over and over and over again ... nine times all across the country, from Alaska to Maine. And going forward, the choice is straightforward," Cruz said. "Do you want a candidate who shares your values, or a candidate who has spent decades opposing your values?" — Celeste Katz
10:57 p.m. Both races are coming down to the wire in Missouri.
Sanders and Clinton are less than two percentage points apart in the Show Me State, with about 7,000 votes separating them with nearly 70% of precincts reporting. A victory in Missouri would be Sanders' sole win of the night:
Trump and Cruz are even closer — just 1,000 votes separate him and Cruz, who's also looking to pick up his first victory:
Follow along with live updated Missouri results here. — Stefan Becket
10:17 p.m. Trump delivers a victory speech in Palm Beach, Florida.
"Florida was so amazing. I want to thank our friends. Northern Marianas [sic] Islands has been so incredible. We heard early in the morning; nine delegates is a lot," Trump opened, referring to his first victory of the day in the Northern Mariana Islands.
Trump shrugged off his critics, scoffing that they "don't understand basic physics, basic mathematics."
After extended thanks to his friends and endorsers, Trump got around to mentioning the vanquished Rubio.
"I want to congratulate Marco Rubio on having run a really tough campaign. He's tough, he's smart and he's got a great future. He's got a great future. But I have to say, and nobody has ever, ever in the history of politics received the kind of negative advertising that I have ... By the way, mostly false."
Trump, now with a near-insurmountable delegate lead, framed himself as a uniter.
"We have to bring our party together ... Millions of people are coming in to vote," Trump said, reprising a standard stump speech line about his ability to motivate voters and bring the party together.
He wrapped up with a parting shot at the gathered media.
"It's an amazing process. It's very tough but it is a — by the end, if you get to the end, you can handle a lot of things, including pressure, lies, deceit, viciousness, disgusting reporters, horrible people. Some are nice. Some are nice. Some really disgusting people back there." — Celeste Katz
10:14 p.m. Trump calls reporters "disgusting."
We're offended. — Stefan Becket
10:07 p.m. Trump: "Good job, Corey."
Speaking in Palm Beach, Florida, after winning the Sunshine State, Illinois and North Carolina, Trump gave a shout-out to campaign manager Corey Lewandowski — who's currently facing allegations that he manhandled a female reporter earlier this month.
"Good job, Corey," Trump said, turning toward Lewandowski, who flanked the candidate during his appearance. — Luke Brinker
9:54 p.m. Trump wins Illinois, his third victory of the night.
Trump will win the GOP race in Illinois, just days after a tense confrontation in Chicago forced him to cancel a campaign rally and sparked a weekend of scuffles at his events.
Cruz was behind in second. The only outstanding Republican call is in Missouri. — Stefan Becket
9:52 p.m. Trump takes North Carolina.
Trump is projected to win the North Carolina GOP primary, with Cruz close behind when the Associated Press called the race at 9:52 p.m. — Stefan Becket
9:28 p.m. What happens to Rubio's delegates?
After losing his home state of Florida to Trump on Tuesday, Rubio announced that he was suspending his presidential campaign. It's been clear for quite some time now that Rubio had virtually no chance at clinching the nomination, but the formal end of his White House bid prompted another question — what happens to his 163 delegates?
We asked Josh Putnam, an expert in election math and political science lecturer at the University of Georgia, to clear up the confusion. His answer? It depends on the state where Rubio won his delegates:
"The rules for the release of delegates are different across states. Some release upon suspension, others require a more formal withdrawal and still other states will bind to Rubio regardless of a dropout," he said. "Michigan fits the just suspension category. Iowa is a bound regardless state. Most fall in the formal withdrawal category." — Zeeshan Aleem
9:25 p.m. Kasich gives Ohio victory speech.
Appearing at a Berea, Ohio campaign event, Kasich basked in the glow of his much-needed home state victory.
"My whole life has been about trying to create a climate of opportunity for people," the governor said. Referring to his family's humble origins, Kasich said he wanted to recreate a country of upward mobility.
"I represent you," Kasich said, vowing to "listen" to the American people on the challenges confronting the country. 
Vowing to press forward in the campaign, Kasich promised, "I will not take the low road to the highest office in the land." — Luke Brinker
9:05 p.m. How Clinton won Ohio
The whitest state of the night, Ohio once looked to be Sanders' greatest hope for securing a big chunk of delegates on Tuesday, but Clinton ended up winning the state handily. Exit polls results — which could change, but usually capture broad trends effectively — provide some clues as to how she did it.
The polls show that as usual, Sanders won among younger voters decisively. But among voters 45 and older, an age group that made up a majority of the electorate, Clinton was dominant.
Sanders led Clinton among men, 53% to 46%, but Clinton won women — who came out in significantly larger numbers than men for the Democrats — 61% to 38%.
Clinton edged out Sanders among white voters overall, 51% to 48%, although Sanders did a bit better among working class whites (whites with no college degree) than her.
And Clinton defeated Sanders by a large margin among black voters, 68% to 30%. That command of black voters isn't as large as Clinton usually has in the South, but it's a huge advantage nonetheless. — Zeeshan Aleem
Speaking in West Palm Beach, Florida, after wins in the Sunshine State, Ohio and North Carolina, a triumphant Clinton told supporters she was well on her way to securing the Democratic nod.
"We will add to our delegate lead to roughly 300 with over 2 million more votes nationwide," Clinton said. "We are moving closer to securing the Democratic Party nomination and winning this election in November."
Nodding to Sanders — and his supporters — Clinton thanked the Vermont senator for the "vigorous campaign" he has mounted so far. — Luke Brinker
8:55 p.m. Kasich gets his Ohio win.
Living to fight another day, Kasich has won his home state, beating Trump in Ohio, according to the AP. All 66 delegates in the state will go to Kasich. — Luke Brinker
8:40 p.m. Clinton beats Sanders in Ohio.
Staving off a stiff challenge in the Buckeye State, Clinton has defeated Sanders in Ohio, per the AP. — Luke Brinker
8:34 p.m. Clinton wins North Carolina.
The AP projects that Clinton has defeated Sanders in the Tar Heel State. — Luke Brinker
8:25 p.m. Rubio greeted supporters in Miami after a loss to Trump so severe that the Associated Press called the victory literally seconds after the polls closed.
"While it is not God's plan that i be president in 2016 or maybe ever, and while today my campaign is suspended, the fact that I've even come this far is evidence of how special America truly is," he told his supporters, "and all the reason more why we must do all we can to ensure that this nation remains a special place."
Rubio mingled themes of gratitude and faith with a parting warning clearly aimed at the victor, Trump: "I ask the American people, do not give into the fear, do not give into the frustration. We can disagree about public policy, we can disagree about it vibrantly, passionately, but we are a hopeful people and we have every right to be hopeful." 
Read more here. — Celeste Katz
8:23 p.m. Rubio calls it quits.
In a speech following his loss in Florida, Rubio announces he's suspending his campaign. — Stefan Becket
8:15 p.m. Clinton is winning among black voters in Illinois, but not by the huge margins she received elsewhere in the South.
Early exit polls indicate that Clinton is faring much better among black voters than Sanders, but not by the kinds of margins that she's had in the South. Her lead over Sanders so far — 69% to 30% — is reminiscent of the lead she held over him in Michigan. If Illinois ends up a tight race — and recent polls suggest it will be — Sanders' share of the black vote will be a crucial component of his victory. — Zeeshan Aleem
8:00 p.m. Trump and Clinton win Florida.
With all polls closed, the Associated Press projects that Trump and Clinton have won in Florida:
7:56 p.m. Trump and Clinton are crushing the competition in Florida.
With polls minutes away from closing, Trump leads Rubio 46% to 27% and Clinton leads Sanders 66% to 32%, with about 30% of precincts reporting.
Both races look likely to be called at the top of the hour. — Luke Brinker
7:40 p.m. Florida is the most diverse state voting Tuesday.
Out of the five states holding nominating contests Tuesday, Florida is easily the most diverse. Early exit polls analyzed by CNN indicate that close to 25% of the Floridian electorate that participated in the GOP primary were non-white, compared to roughly 10% of Republican voters in the other four states voting tonight.
For Democrats, Florida represents the only state that has a majority non-white electorate tonight. In Illinois — the state that's most demographically representative of the entire country — about 40% of the Democratic electorate was non-white. Missouri and North Carolina's Democratic voters were one-third nonwhite, and in Ohio about one quarter were.
What does Florida's diversity mean for the candidates tonight? It's hard to say. While one might expect Trump to fare poorly among the state's large Hispanic population — an ethnic group he has disparaged consistently during his campaign — entrance polls suggest he did well with Hispanics in Nevada. And while some polls show Trump is not looked upon fondly by most of Florida's Hispanic population, the Cuban-American community there is a deeply conservative voting bloc, historically, that could be less fazed by Trump's xenophobic rhetoric.
As for the Democratic side of things, Clinton tends to do very well among voters of color — especially older ones — in the South compared to Sanders, and that trend is likely to continue. — Zeeshan Aleem
7:38 p.m. Races in Ohio and North Carolina too close to call; Trump and Clinton lead in Florida.
Early results show Trump and Clinton dominating their parties' primaries in Florida, but with the final polls not closing until 8 p.m., there won't be any calls until the top of the hour.
Meanwhile, Kasich and Clinton enjoy early leads in Ohio, based on early exit polling.
In North Carolina, Clinton boasts an early lead, while Trump and Cruz are duking it out in a close battle on the GOP side. — Luke Brinker
6:40 p.m. Here's when polls close in each state.
Most polls in Florida close at 7 p.m. Eastern, followed by Ohio and the first polls in North Carolina at 7:30 p.m. 
At 8 p.m., polls close in Illinois and Missouri, as well as the rest of Florida.
If Trump wins Florida by the wide margin polls predict, we could have our first significant call of the night very early; Clinton is also expected to easily win there. — Luke Brinker