Contouring "Sends a Bad Message" to Women About the Need to Change Your Face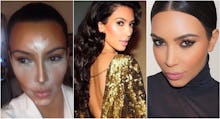 Contouring is time consuming. It is expensive. It is not easy to do.
It also may be bad for our self-esteem, by sending a crappy message about changing yourself. That's Bobbi Brown's take, expressed in an interview with Celia Ellenberg for the Vogue podcast.
"Contouring — I'm not a fan," Brown, who has spoken against contouring before, said. "I don't understand why someone needs to contour a face. I find the face beautiful as is; I like to enhance what I see.
"I also think contouring sends a bad message. It says, 'Something's wrong with you the way you are.' If you don't have cheekbones, you don't have cheekbones, and that's beautiful, and that's fine..."
She ain't wrong: Giving people the tools to get "better" faces only underscores what kinds of faces we should want to have. 
Just take plastic surgery trends — the rise of lip injections and of plump, perky lips as a beauty ideal haven't happened independently. U.K. cosmetic surgery group Transform reportedly saw a 700% increase in requests for lip fillers since Kylie Jenner opened up about having them. When we realize we actually have the tools to make a beauty change, how much more will we be encouraged to pursue it?
As for contouring, the rise of expensive products, tutorials and celebrity endorsements has encouraged the chiseled, angular face. As Mic's Theresa Avila reported, the process of contouring involves identifying every one of your facial flaws, the points you want to hide or highlight, and attacking them accordingly.
It's no wonder that the process of literally painting on a better face than the one you have can send a negative message. 
"Look, we all wake up sometimes and we want to be someone else, and yes, if you can do it with makeup, it's the easiest thing in the world," Brown told Vogue. "I think there's better ways than doing it with contour."