Hillary Clinton Defeats Bernie Sanders in Illinois Primary, Solidifying Delegate Lead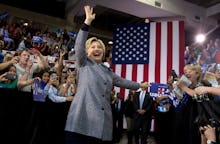 Hillary Clinton won the Democratic primary in Illinois on Tuesday, according to the Associated Press, an outcome that up seemed obvious until a week ago but became uncertain in the days leading up to the race after her rival Sen. Bernie Sanders made a huge leap in the polls. 
The AP called the race at 12:27 a.m., when Clinton was beating Sanders 51% to 49% with 94% of precincts reporting.
Clinton had a number of advantages going into the Illinois primary. She was born and raised in the state, and her strong ties to President Barack Obama — who adopted the state as his own during his days as a community organizer and a politician there — likely gave her a boost. And many of the major trade unions that have endorsed Clinton also played a critical role in mobilizing voters on her behalf.
But her edge over Sanders in the polls narrowed in the aftermath of his unexpected upset last week in Michigan — another Midwestern state with a similar history of deindustrialization and workers who are particularly likely to be receptive to Sanders' protectionist stances on trade. 
And in the weeks leading up to the primary, Sanders' campaign aggressively presented itself as an alternative to the state's ailing Democratic establishment, as embodied by Chicago's extremely unpopular Mayor Rahm Emanuel. Clinton's ties to Emanuel, who attempted to prevent the release of a video showing police killing an unarmed black teenager last year, could be why she didn't dominate in Chicago despite the fact that demographic trends there favored her strongly.
But while the race ended up shockingly close, Clinton did ultimately pull off a win.  
Read more: Marco Rubio Suspends Campaign After Falling to Donald Trump in Home State of Florida
According to exit polls, Clinton beat Sanders among women, older voters and voters of color. 
Sanders fared far better than her among younger voters, especially those between the ages of 18 and 29, but Clinton dominated among voters over the age of 40, a group that made up about two-thirds of the Democratic electorate. 
Clinton led Sanders among women, who made up a majority of Democratic voters, 55% to 45%. Sanders was just as popular among men, winning them 55% to 45%.
Sanders bested Clinton among white voters, 58% to 41%. But when it came to nonwhite voters, who made up about 40% of the Democratic electorate, Clinton either matched Sanders or beat him easily. As has often been the case in this election, Clinton thrashed Sanders among black voters, winning them 70% to 29%. (It was a wide margin, but more similar to the way she won black voters in Michigan than in most Southern states, where her domination has often been near-total). And both candidates split the Latino vote just about evenly.
In the end, it was a far closer race than most political analysts had anticipated until a few weeks ago. But combined with her victories in Ohio, Florida and North Carolina on Tuesday, Clinton's performance in Illinois drives home the point that she's a candidate who can win among a wide variety of voters from a wide variety of regions. Sanders can't quite say the same.