Donald Trump Lurches Toward GOP Nod With Victories in Florida, North Carolina and Illinois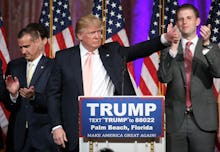 This wasn't quite the night Donald Trump was hoping for.
The Republican presidential frontrunner hoped to effectively seal his party's nomination with sweeping victories in the day's delegate-rich contests, but his loss to Ohio Gov. John Kasich in the Buckeye State denied Trump that triumph — and slightly complicated his path to securing the 1,237 delegates needed to win the nomination.
Read more: 2016 Primary Results: Here's Who's Winning Every Democratic and GOP Race in March 15 Races
But with wins in Illinois, Florida and North Carolina, Trump padded his hefty delegate lead, all but ensuring that he'll enter the Cleveland convention in July with at least a sizable plurality of delegates.
With nearly all precincts reporting, Trump clung to a razor-thin lead over Ted Cruz in Missouri — precisely the kind of religiously conservative state the Texas senator needed to win handily to prove he poses a viable threat to the billionaire businessman.
The state of play: Trump woke up Tuesday morning with 460 delegates to Cruz's 370, Marco Rubio's 163 and Kasich's 63.
According to the latest tabulations from RealClearPolitics, Trump has now won at least 619 delegates, followed by Cruz at 394, the now-departed Rubio at 167 and Kasich at 136.
To secure the magic 1,237 delegates, Trump now needs to win about 60% of the remaining delegates.
That outpaces the rate at which he's won the delegates already awarded, but after boxing out Rubio with his landslide victory in Florida, Trump now faces two opponents upon whom the electoral calendar — and sheer political "physics," as Trump put it during his victory speech in Palm Beach on Tuesday — is unlikely to favor.
Looking ahead: The frontrunner faces his next big test on March 22, when Trump will probably lose culturally conservative Utah to Cruz, but is likely prevail in Arizona's winner-take-all primary, which awards 58 delegates. Trump's hard-line immigration stance ought to give him the advantage in the Grand Canyon State.
Meanwhile, subsequent contests are likely to prove challenging for Cruz and Kasich. In Northeastern states like New York, Connecticut and Pennsylvania, the center-right Ohio governor is likely Trump's main competition — but it's not clear how stiff a challenge he'll actually pose.
Kasich's campaign reported just $1.5 million cash on hand in the most recent filing period, and he starts out at a substantial polling disadvantage to Trump in Pennsylvania and New York. 
And satisfying as winning his own state may have been for Kasich, he still needs to win 110% of the remaining delegates — yes, you read that correctly — to secure the nod. Cruz, meanwhile, needs about 80%.
Should the party deny Trump the nomination at a brokered convention — where delegates are free to vote as they please after the first ballot — it would likely spark a virulent backlash from Trump's committed, angry base of anti-establishment supporters, all but guaranteeing a November loss to likely Democratic nominee Hillary Clinton.
Of course, the often-incendiary, unfailingly controversial Trump is also a risky general election bet — but for Republicans who want to win the White House in the fall, it's increasingly looking like Trump or bust.