Michelle Obama Penned a Stirring Column About the Need to Educate Girls Around the World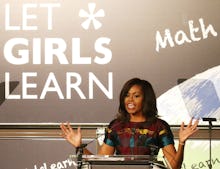 On Wednesday Lenny Letter published an article by first lady Michelle Obama espousing the need to educate girls around the world.
In the column, "Why Global Girls' Education Is so Personal for Me," Obama explained how her experiences traveling the world as first lady have informed her thinking on the issue. In many cases, she wrote, girls' struggles to rise above their circumstances were particularly universal struggles.
Read more: Michelle Obama #62MillionGirls Advocates for Girls' Right to an Education
"I see myself in these girls," she wrote. "... You'd see yourselves in these girls too." 
Here are the key takeaways from Obama's post.
1. The biggest problem lies in belief systems.
At the heart of the problem, Obama wrote, are prevailing beliefs across many cultures and societies that women ought not be educated and would do better to start a family. This reality, she said, was often lost in a discussion that too often focused only on structural barriers to girls' education.
"It's also very much about attitudes and beliefs," she wrote, "the belief that girls should be valued for their bodies, not their minds; the belief that girls simply aren't worthy of an education, and their best chance in life is to be married off when they're barely even teenagers and start having children of their own." 
2. Girls deserve an equal shot.
Obama wrote that witnessing girls around the world overcome extreme adversity and strive toward learning and bettering themselves is one of the consistent things she's noticed.
"I've met girls who make long, dangerous journeys each day to school and then come home and study for hours each night," she wrote. "I've met girls studying at rickety desks in bare concrete classrooms who are raising their hands so hard they're almost falling out of their chairs. ... These girls deserve the same kind of chances we all had to learn and grow and contribute to their families and societies."
3. We can take action.
The first lady ended her letter with a call to action in the form of the Let Girls Learn initiative, which pledges White House resources to addressing the problem. She also touted the website 62MillionGirls.com — in reference to the roughly 62 million girls not currently receiving an education. 
"You can organize a fun run, a battle of the bands, a trivia contest, a cocktail party — anything you can dream up and execute is fair game (within limits, of course)," the first lady suggested. "You absolutely have the power to make a difference on this issue, and girls around the world are counting on you to step up and act."