Naomi Campbell Calls the Fashion World's Diversity Problem "Disappointing"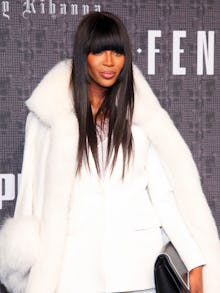 English model and actress Naomi Campbell steered into an important dialogue on race in the fashion industry during a recent interview with Teen Vogue. Opening up about her early days as a supermodel, the fashion industry vet recounted working with stylists who hadn't worked with black models, and the problems that posed. Though progress has been made — arguably not enough — Campbell's account pulled back the curtain on a longstanding lack of diversity both on and off the runway in the world of high fashion.
"When I was younger ... I would be backstage at shows and there would be stylists who didn't have any experience working with black models," Campbell said in the interview. "It's disappointing to hear that models of color are still encountering these same issues all these years later."
Campbell is not alone in her experience. Bethann Hardison, founder of the modeling agency Bethann Management Co., joined in the dialogue and underscored another important point: that stylists who are inexperienced working with black models can — and have — actually jeopardized models' careers. "Often girls didn't get the job if there was difficulty for the technician to actually do their hair," she told Teen Vogue.
Progress has been made, sure, and runways today are much more diverse than in 1984, when Hardison founded her agency. But as Campbell points out, these are challenges black models continue to face decades later. 
Read more: Naomi Campbell Frees the Nipple on Instagram to Promote Her New Book