Hear Michelle Obama's "This Is for My Girls" Single With Missy Elliot, Zendaya and More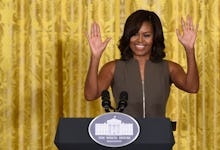 Ahead of her South By Southwest keynote speech, on Tuesday first lady Michelle Obama dropped the hottest single of 2016, called "This Is for My Girls," featuring a power squad of female artists including Missy Elliot, Zendaya, Chloe and Halle, Kelly Clarkson, Lea Michele, Janelle Monáe, Kelly Rowland and Jadagrace. You can preview the song on iTunes here.
"This is for my girls/ All around the world/ Stand up/ Put your head up/ Don't take nothing from nobody," the artists sing in the chorus. "This is for my ladies/ My sisters/ All over/ This is for my girls." All proceeds from the single will go to the Obama-Peace Corps Let Girls Learn Fund, which seeks to provide access to education for the estimated 62 million girls around the world who aren't in school. Obama is set to discuss the initiative at her keynote Wednesday.
Read more: Michelle Obama Surprises Elementary School Kids and It's Adorable
Obama isn't featured in the song, but she had a hand in creating the track along with Makers, AOL's brand that highlights female achievement through video. The song was written by eight-time Academy Award-nominee songwriter Diane Warren.
"It's kind of like 'We Are the World' meets 'Lady Marmalade' with these strong voices and strong women," Warren told Billboard in an exclusive interview soon after the song's radio release. "When was the last time you heard a song like this or a record that had this many amazing divas on it? I'm really proud."