Have You Always Wanted to Be a Ninja? Japan Will Let You Do it Full-Time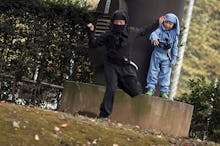 Do whatever you need to do — sharpen your shurikens or binge-watch Naruto — Japan's Aichi region is in the market for six full-time ninjas ahead of the 2020 Summer Olympics in Tokyo. They hope the addition of the acrobatic daredevils will attract more tourists to the area. 
While physical and acrobatic skills are a must — they're looking for ninjas, after all — the region is looking to promote "warlord tourism," as the area was known to be the home of Japanese mercenaries in the 15th century for the likes of espionage, assassination and other forms of covert warfare. 
Interestingly, according to Conde Nast Traveler, the job does not require any fluency in Japanese — anyone over 18 can apply for the job. Thus, as long as you know your ninja duties will mostly include posing for photos with tourists, you might as well give it a shot. Perhaps, in the process, you'll become a legendary Hokage like Naruto. 
Read more: This Bird Has Ninja Moves — And the Internet Is Obsessed