Olivia Wilde's Age Was a Problem During 'Wolf of Wall Street' Casting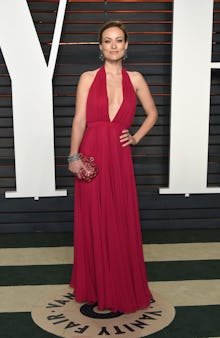 While Olivia Wilde is currently making headway in HBO's Vinyl — the pilot episode of which was directed by Oscar-winner Martin Scorsese — the actress recently noted she was snubbed for another cocaine-filled Scorsese production. In an interview on the Howard Stern Show on Tuesday, Wilde said she auditioned for The Wolf of Wall Street — likely the role of Jordan Belfort's wife, which was later played by Margot Robbie, though she didn't specify — and was deemed "too old" to play the part. 
"The funniest thing I heard recently was, I had heard for a part that I was too sophisticated," Wilde said on the show, when asked if she'd missed out on a part for being too beautiful. "And I was like, 'Oh, that sounds nice. I like that feedback. I didn't get the part, but I'm a very sophisticated person.' And then I found out later that they actually said 'old.' I want to make a translation sheet for Hollywood that's all the feedback your agents give you and then what it really means. ... I did not [have to audition for Vinyl], because I had auditioned unsuccessfully for Wolf of Wall Street — that's the one I was too old for." 
Wilde was 28 when she auditioned for the role. In contrast, Leonardo DiCaprio — who played to-be husband Belfort — was 39 at the time of the movie's release, and Wilde is a few months younger than DiCaprio's Wolf of Wall Street co-star, Jonah Hill. Unfortunately, given the slew of women in Hollywood who are underrepresented and hypersexualized — and, to Wilde's point, who constantly deal with industry ageism — her statement doesn't exactly buck the trend. 
Read more: Hollywood's Ageism Is Most Obvious in One Kind of Character: Moms
h/t Vulture