The Numbers Are In, and Fashion Week Still Doesn't Have Time for Plus-Size Women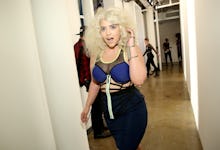 In February, the Fashion Spot announced that the latest season of New York Fashion Week was the most diverse on record, with more than 30% of all models who walked being people of color. "We did it!" we screamed, "There is progress!"
But now that the dust has settled, and the models in fashion weeks in London, Milan and Paris have strutted their stuff in Hannibal Lecter masks and crimped hair, it's time to analyze the data from all four cities to see if inclusion has risen on the whole.
The short answer: Not really — especially when it comes to plus-size models. 
Read more: The Latest "Diversity Numbers" Are In — Here's How White Fashion Week Was 
According to Fashion Spot's biannual diversity report released on Wednesday, while racial diversity continued to slowly (and we mean very slowly) increase, the number of plus-size models walking in all four major fashion weeks took a hit, with just six plus-size model appearances (four coming from New York and two in Paris). That's down from 14 models last season  — and even then it was worrisome. 
According to Fashion Spot, plus-size models are now the least represented group. There were actually more models over 50 years old who walked than plus-size ones.
After breaking down all 312 shows and 8,727 model appearances, the Fashion Spot found that overall, racial diversity numbers are slightly up. Although more than 75% of all models cast were white, that is actually an improvement: Models who walked for spring 2016 and fall 2015 were 77.6% white and 80% white, respectively.
Still, models of color made up less than 25% of all models walking this season. Here's a better breakdown of what that actually looks like: 
Clearly, we've still got some work to do.
"In regards to size diversity, this is an issue that has really come to the forefront in the past year, though runways are slow to reflect it," Jennifer Davidson, Fashion Spot's managing editor, told Mic. "The more we (as consumers and as an industry) stress the importance of diversity of all kinds, the sooner we will see a shift globally."
As per usual, New York Fashion Week in early February was by far the most racially diverse for the fourth year in a row, with 31.9% models of color. Some of the week's highlights included Yeezy Season 3, which cast 100% models of color, and Zac Posen, whose runway was made up of 87% women of color. Other fashion weeks didn't fare nearly as well, with London's diversity numbers actually dipping.
Another hopeful gain is in the world of transgender modeling. This season, eight transgender models were cast in shows, which is a sizable increase from last season, when there were just five.  
What helps these effort are shows that employ a diverse set of models, and do it well. A Vogue review also doesn't hurt either. And if you're looking for an example of that kind of show, look to H&M's show in Paris, which cast plus-size models alongside transgender models alongside models who were older than 50. 
It's a brand that actually took note of its customers and tried to cast interesting representatives for them on the runway. So, if any designers are looking for a little inspiration, that would be a good place to start.