Who Is Merrick Garland? Everything You Need to Know About the New Supreme Court Nominee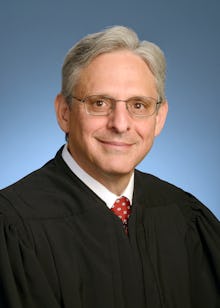 The Associated Press and numerous other outlets reported on Wednesday that President Barack Obama would nominate Judge Merrick Garland to the Supreme Court. Garland, 63, was nominated to the United States Court of Appeals for the District of Columbia Circuit in 1995 by former President Bill Clinton — later confirmed in 1997 — and now serves as its chief judge. Garland was previously considered for the Supreme Court in 2010, for the position Justice Sonia Sotomayor ultimately filled. 
"[Garland] would be very well supported by all sides [as a Supreme Court nominee] and the president knows that," Sen. Orrin Hatch said of Garland in 2010, according to Reuters. Reuters added that Garland is "seen as a moderate whose nomination would not turn into a bipartisan fight that would distract the administration from other issues like job creation and financial reform." 
Having been the chief judge for the D.C. Circuit since 2013, Garland isn't skimping on experience. Garland, who is Jewish, is a graduate of Harvard College and Harvard Law School — the same noteworthy law school where five current justices (and the late Antonin Scalia) graduated from. Garland would be the fourth Jewish member of the current Supreme Court, according to McClatchy. Garland is a Chicago native and was prestigiously named a National Merit Scholar while in high school. 
Liberals in the twitterverse were mostly positive with the move, though some noted his moderate views as a slight. 
Correction: March 18, 2016