Obama Nominates Merrick Garland to the Supreme Court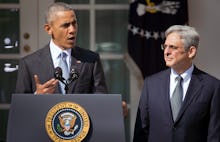 One month after the sudden death of Justice Antonin Scalia jolted the political and legal worlds, President Barack Obama nominated Judge Merrick Garland to succeed the late justice, setting up a fierce battle with a Republican Party that has vowed to obstruct any Obama nominee in the Senate.
Lauding Garland as one of "America's sharpest legal minds," Obama said he had evinced "even-handedness" and integrity throughout his career as a federal prosecutor and judge.
"He would ultimately bring that same character to bear on the Supreme Court," Obama said, describing Garland as eminently qualified to begin serving there "immediately."
Read more: Who Is Merrick Garland? Everything You Need to Know About New Supreme Court Appointee
Calling his nomination "the greatest honor of my life" aside from his family, an emotional Garland presented himself as a public service-oriented jurist.
"For me, there could be no higher public service than serving as a member of the United States Supreme Court," he said.
Currently the chief judge of the United States Court of Appeals in the District of Columbia circuit, 63-year-old Garland is a graduate of Harvard College and Harvard Law School. A former clerk for Supreme Court Justice William J. Brennan Jr., Garland was appointed to the D.C. circuit court by President Bill Clinton.
A centrist pick: Obama's appointment of Garland — described by Supreme Court expert Tom Goldstein as "quite centrist" — signals an effort to woo GOP senators (or at least call their bluff) with a so-called "consensus" nominee. Vice President Joe Biden hinted in February that the White House would seek out a nominee amenable to the opposition party.
On Wednesday, Obama pointedly noted Republicans' past praise for Garland, saying his name had "come up repeatedly" during discussions with bipartisan groups of lawmakers about qualified nominees.
But Senate Republicans have been steadfast in opposing any vote on a nominee before the election. Last month, a letter signed by Senate Majority Leader Mitch McConnell and other top Republicans warned Obama that his nominee would not even receiving a Judiciary Committee hearing.
The GOP's three remaining presidential contenders — businessman Donald Trump, Sen. Ted Cruz of Texas and Gov. John Kasich of Ohio — have also voiced their opposition to confirming an Obama nominee.
Undaunted, Obama called on Wednesday for senators to grant Garland "a fair hearing, and then an up-or-down vote."
"Presidents do not stop working in the final year of their term. Neither should a senator," Obama said.
What it means: Should Garland win confirmation to the court — as a result of either a Senate GOP turnabout or confirmation under, say, President Hillary Clinton — he would likely usher in a sharp change in the court's ideological trajectory. 
Assessing Garland's judicial track record in 2010 — when many speculated that he could be named to succeed retiring Justice John Paul Stevens — Goldstein described him as somewhat conservative on the rights of criminal defendants but more liberal-leaning on matters like environmental regulation and free speech.
A stalwart conservative, Justice Scalia anchored the right's jurisprudence on issues from abortion and same-sex marriage to campaign finance and government regulation of industry. If Garland, as expected, generally votes in line with the court's four left-leaning justices — Ruth Bader Ginsburg, Stephen Breyer, Sonia Sotomayor and Elena Kagan — the court will take on a decidedly center-left hue.
But with Ginsburg having just turned 83, Kennedy celebrating his 80th birthday this year and Breyer turning 78, it's likely that the next president will have the opportunity to name a few of his or her own court picks — raising the stakes in what's already a pitched battle over the future of country's laws and institutions.
Get the five stories that will challenge you to rethink the world by signing up for MicCheck Daily.