Banning Muslims From Entering the U.S. Was a Top Priority for Tuesday's GOP Voters — Again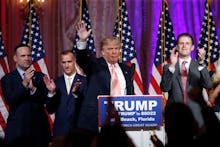 If a creeping sense of déjà vu is wrapping its hands around your throat this morning, don't be alarmed: It's just America's virulent Islamophobia spilling into the public eye again.
Nearly seven out of every 10 Republican voters who cast ballots Tuesday supported banning Muslims from entering the U.S., according to exit polls conducted by NBC News.
Read more: Banning Muslims From Entering the U.S. Was a Top Priority Among GOP Super Tuesday Voters
This ugly sentiment is becoming a pattern: On Super Tuesday earlier this month, roughly six out of 10 GOP voters also backed the ban, which Donald Trump proposed in December after a pair of terrorists killed 14 people at the Inland Regional Center in San Bernardino, California.
So once again, America: This is not a drill.
Here are the percentages of Tuesday's GOP voters who support banning an entire religion's worth of people from entering the U.S. temporarily, broken down by state:
Illinois — 67%
North Carolina — 67%
Ohio — 64%
Florida — 64%
The report added that three-quarters of Missouri GOP primary voters also support the ban, but NBC News did not give a specific percentage for them.
The original idea came via a press release from Trump's campaign in 2015: Trump, it read, advocated "a total and complete shutdown of Muslims entering the United States until our country's representatives can figure out what is going on," according to CNN.
This statement has since become emblematic of the businessman's vocal anti-Muslim stance, which includes the proposal that Muslims should submit their names to a registry so authorities can track them. In an interview Thursday with CNN's Anderson Cooper, Trump went so far as to claim, "Islam hates us."
"There's something there," he said. "There's a tremendous hatred there. There's a tremendous hatred. We have to get to the bottom of it. There is an unbelievable hatred of us."
Trump is the frontrunner for the Republican presidential nomination.
h/t NBC News