An Artist in the Netherlands Created Windmills That Shoot Laser Beams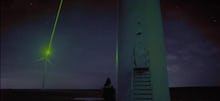 It's the most Netherlands of Netherlands art installations: "Windlicht," which is Dutch for windmills that shoot laser beams from their blades. (It's actually Dutch for "Windlight," but same difference.) 
The brainchild of Daan Roosegaarde at Studio Roosegaarde, Windlicht links wind turbines in the province of Zeeland in "a dance of bright lines," according to a press release; it uses "special software and tracking technology" to cast green lasers from mill to mill, a modern reimagining of the centuries-old windmills of Kinderdijk (which are the ones that come to mind whenever someone says "Netherlands"). 
Read more: China Is Shaming People Who Check Their Phones During Movies by Shooting Them With Lasers
"Windlicht creates the missing link between the Dutch and the beauty of our new landscape," Roosegaarde said in the press release.
Studio Roosegaarde partnered with KPN, a prominent Dutch telecommunications and information technology firm that's committed (and close) to becoming climate neutral, which means not leaving any carbon footprint. 
"The update that the artwork gives to the landscape, represents important values such as sustainability and connectedness," KPN's CEO, Eelco Blok, said in the press release. "Because these two values are of great significance for KPN, we are committed to this artwork. With 'Windlicht' we support the idea of Roosegaarde that green energy is something to be proud of."
The installation is free to view and open to the public on March 18 and 19 from 8 p.m. to 11 p.m. local time at Sint Annaland's Eneco wind farm, weather permitting. Interested parties who can't make it to the Netherlands before the weekend can find information about the project here, and check out the video below.