Was Lindsay Lohan's Likeness Used in 'Grand Theft Auto V'? NY Lawsuit Moves Forward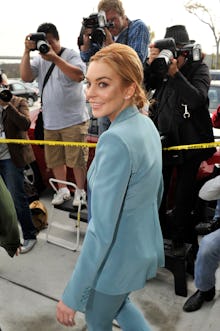 Lindsay Lohan's lawsuit against Take-Two Interactive — whose subsidiary is responsible for the Grand Theft Auto video game series — will be moving forward, as New York Supreme Court judge Joan Kennedy ruled in favor of hearing the case out. Lohan alleges that the latest release in the franchise, Grand Theft Auto V, features images and a character who has a strong likeness to herself. 
According to the Hollywood Reporter, the character in her likeness — Lacey Jonas — "constitutes a violation of her rights under New York Civil Rights Law." Moreover, according to the amended complaint, the game makes references to her 2004 film Mean Girls and the hotel in West Hollywood where she used to live. 
While Take-Two highlighted in their response that Lohan has had made failed lawsuits in her past, Kennedy said she would be making "all inferences in Lohan's favor" at this point in the case. 
"Defendants have not been able to prove, at this juncture of the litigation, that the republication exception to the one year statute of limitations is not applicable to this case because the intended audiences were the same as those of the original publication and the images consistently remained the same," Kennedy wrote.  
In GTA V, a mission in the game includes helping the fictional Jonas evade paparazzi — a mission YouTubers and gamers routinely call the "Lindsay Lohan mission."