This Idaho Sheriff Believes the "Majority" of Rape Accusations are False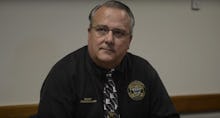 Every year, hundreds of thousands of rape kits languish untested in crime labs across the United States. In 2014, President Barack Obama requested $35 million to begin testing the backlogged kits, which can cost between $500 and $1,500 each to test, and in December Congress hoped to devote $45 million to the cause. 
Now, after Idaho legislators signed off on a bill Tuesday to improve the processing time for the state's rape kits, a sheriff piped up saying it was a moot point: Most rape accusations, he said, are false. 
Read more: How These Detroit Women Took on a Rape Kit Testing Backlog
"They need to let us decide if we're going to send the kit and when we send the kits in," Bingham County Sheriff Craig Rowland told Idaho Falls' Local News 8. "Because the majority of our rapes, not to say that we don't have rapes, we do, but the majority of our rapes that are called in, are actually consensual sex."
Source: Local News 8
Rowland is far from the first to float this theory, and there's more than enough evidence to prove it's flat-out wrong. A 2013 report from the U.K.'s Crown Prosecution Service found that of 5,651 reported rapes it studied, only 35 — or 0.6% — turned out to be false accusations.
As Mic's Tracey Vitchers wrote in 2013, suggesting women accuse innocent men of rape perpetuates a harmful misconception that hurts victims: "One of the easiest ways for rape apologists to turn the tables on a sexual violence survivor who files criminal charges against her assailant is to exaggerate the prevalence of false rape allegations or attack the survivor's credibility."
Later, Rowland offered a clarification to Morning News.
"At this point in time it is between law enforcement and the prosecutor's office along with the victim to decide if the sexual assault kit should be sent to be tested," Rowland said in the statement. "Bingham County Sheriff's Office takes all sexual assault cases very seriously and all reported sexual assault cases are investigated."