This Champagne Gun Is the Most Important Thing You Won't Buy Today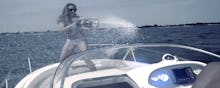 It's the gun absolutely no one is saying we need to control. 
The Miami-based company King of Sparklers is now peddling what is almost certainly the world's first Champagne-shooting weapon.
The Super Soaker-esque device was invented by France-based company Extra-Night, but is as Miami as it gets. Available in gold, rose gold and chrome, the gun can hold a magnum-sized amount of Champagne from any brand. (No word on whether the gun accepts Champagne's lesser cousin, sparkling wine, but we know you'd never ask.)
Read more: The Bizarre Thing Baffling Amazon Users About This Toy Fighter Jet
In its full glory, it looks something like this.
The gun can shoot a continuous spray of bubbly up to 23 feet for 45 seconds before it needs to be reloaded, and it can be yours for $459 — a steal when you consider the boat you'll apparently need to offload your $1,300 bottle of Dom.
For those looking for more economical uses, the gun can also pour Champagne, as one traditionally would into glasses or mouths, for consumption.
According to the Miami New Times, while the Champagne Gun has only recently hit the market, it has already unloaded some inventory at popular Miami bars. 
Impulse buyers — shoot for the stars.
Correction: March 17, 2016