St. Patrick's Day 2016 Deals: Where to Get Shamrock Shakes, Green Beer and $1 Pancakes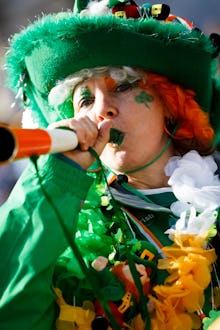 Find a green shirt and have some corned beef and cabbage: St. Patrick's Day is on Thursday, March 17. Many places are offering Irish-centric deals for the holiday, even though many American traditions for St. Patrick's Day would cause a traditional Irish person to balk. Here are a few deals you should take advantage of, that don't require any Irish luck.
Read more: 11 Actual Facts About Being Irish That Have Nothing to Do With Alcohol
1. McDonald's Shamrock Shake and Burger King's new Oreo Irish Mint Shake are both available through March 19. Arby's has a "Mint Chocolate Swirl Shake" available for all of March. Finally, all shakes at Sonic are half off on March 17 for St. Patrick's Day.
2. You can get a short stack of buttermilk pancakes at IHOP for $1 if you walk in on St. Patrick's Day between 7 a.m. and 7 p.m. wearing something green.
3. You can enjoy $4 green beers and $5 Irish whiskey at most Bar Louie locations on March 17 and 18.
4. KegWorks is offering 20% discount on all St. Patrick's Day essentials like pint glasses and Jello shot mixes. Just use the coupon code "BlackGold" during checkout.
5. Are you planning on getting a Lyft in San Francisco, Boston or Chicago? If so, drivers will be handing out hangover kits with stuff like instant coffee, First Aid shots and coupons for Evolution Fresh juices.