Chelsea Handler's New Netflix Talk Show Premieres in May — Here's What We Know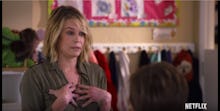 Samantha Bee has held her own as the only female late night host — a true heir apparent to Jon Stewart's original Daily Show run. Thankfully, the late night lineup will add more diversity in its ranks (which, at this point, means anything but another white male) with Chelsea Handler returning to the late night game via Netflix.  
The comedian, who recently released a four-part documentary series on Netflix, has kept the new talk show mostly under wraps. However, Handler has now issued an informal press release — naturally, in the age of social media, through Twitter — about the upcoming late night series. From it, we can gather what to expect from the still-untitled Handler talk show. 
Read more: The 7 Best New Netflix Originals Coming in 2016
The talk show will have new episodes debuting three times a week — on Wednesdays, Thursdays and Fridays — with the premiere set for May 11, according to Handler's post. Furthermore, Handler penned in the press release in her signature manner, she'll be doing more than just sitting behind her desk. Perhaps still not as active as her role on the Chelsea Does docuseries, but enough to shake things up. 
"You'll be traveling around the world and learning new things all courtesy of Netflix," Handler wrote. "Treat this as an opportunity to get the college education you forgot to get."
While Handler has not yet found a name for the show, she added on Twitter that she's open to fan suggestions, after tweeting out that her idea of "Chelsea Later" was rejected. According to the release, she'll announce a winner for the talk show name suggestions on Thursday. 
As for the show's tone, Handler has said she hopes it will find a middle ground between the likes of the Daily Show and CBS' 60 Minutes. "I would like a healthy mix of everything that goes on around the world ... mixed with interesting stuff in our country," Handler said in a 2015 interview with Variety, noting she'd aim for "the well-roundedness of 60 Minutes but faster, quicker, cooler." 
Handler's already made her introduction to the online platform, via Netflix's Chelsea Does, to great critical success. Now, with the forthcoming late night show, we'll see if the digital-first series can attract a similarly warm reception — once its audience comes up with a potential title for the show.