Ingham County Prosecutor Allegedly Hired Prostitutes Hundreds of Times Over 5-Year Period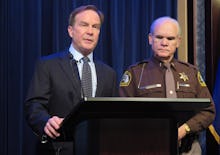 A high-level county prosecutor who specialized in fighting underground sex trafficking in Michigan's capital of Lansing was arrested Monday after authorities learned he hired prostitutes hundreds of times over a five-year period.
Ingham County prosecutor Stuart Dunnings III faces 15 charges, among them "willful neglect of duty and pandering," according to the Washington Post, and was publicly denounced by Michigan Attorney General Bill Schuette this week for being an "officer of the law" who was "a participant in commercial sex activity."
Sex trafficking is defined not merely as the illegal transportation of sex workers across state or federal borders, notes the Grand Rapids Press, but the part of the prostitution trade that involves violence or deception to force people into entering the trade in the first place.
If the allegations against Dunnings are true, they fit that bill closely — despite having served a top role in prosecuting Lansing's sex workers and their customers.
Read more: 16 Years Since Decriminalizing Prostitution, Here's What's Happening in Sweden
According to the Lansing State Journal, the most serious charge against Dunnings is "felony ... prostitution-pandering for allegedly using his position to coerce a woman who came to him for help with a child custody case to have sex with him for money, according to court records." The charge carries up to a 20-year prison sentence, Reuters reported.
"We've done some campaigning together," county Sheriff Gene Wriggelsworth said in a statement, the State Journal reported. "This was a huge betrayal of his trust, his oath of office, his service to the people of this county."
According to the National Human Trafficking Resource Center, the group received 152 reports of human trafficking cases in 2015 in the state — placing it eighth nationally in its database. Since 2007, the NHTRC says, it has tracked 556 cases in Michigan.
In a 2013 report, the Michigan Commission on Human Trafficking admitted no accurate data on rates of trafficking in the state exist, though available findings demonstrate such a trade exists. Contributing factors include the state's proximity to the Canadian border and major international water crossings, the state's large trucking industry and major conventions and expos in Detroit. 
Correction: March 18, 2016