Republican Debate in Salt Lake City Canceled After Donald Trump and John Kasich Back Out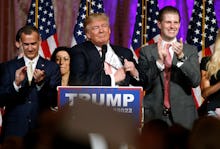 A bonus for political junkies' sleep schedules, if not democracy: An upcoming Republican primary debate in Salt Lake City got scrapped Wednesday after both Donald Trump and John Kasich pulled out.
The three-man showdown at the Salt Palace Convention Center was to be hosted by Fox News Channel on March 21, the day before the next round of GOP primaries in Arizona and Utah.
Read more: 2016 Primary Results: Here's Who's Winning Every Democratic and GOP Race
Trump said Wednesday morning — ironically, during a call-in appearance on Fox & Friends — that he wouldn't appear at the Utah debate because of another "major" speaking engagement.
That turned out to be a speech to American Israel Public Affairs Committee, better known as AIPAC.
"I think we've had enough. How many times can the same people ask you the same question?" Trump said on the morning show, claiming "nobody told me about it" and that he was surprised to learn he had another debate ahead of him.
Fox 13 News, the network's Salt Lake City affiliate, confirmed that the debate had been called off. 
Michael Clemente, executive vice president of Fox News Channel, released a full statement later Wednesday.
On Feb. 20, the Republican National Committee announced that a GOP presidential primary debate would be held on March 21 in Salt Lake City. They offered that debate to Fox News Channel to host, provided there were enough candidates actively campaigning. This morning, Donald Trump announced he would not be participating in the debate. Shortly afterward, John Kasich's campaign announced that without Trump at the debate, Kasich would not participate. Ted Cruz has expressed a willingness to debate Trump or Kasich — or both. But obviously, there needs to be more than one participant. So the Salt Lake City debate is cancelled.
"Crazy Megyn": As with many things in the GOP cycle to date, there's a backstory.
Trump — who on Tuesday won Illinois, North Carolina and notably knocked Marco Rubio out of the race entirely by taking Florida — aimed derogatory tweets at Fox's Megyn Kelly in the run-up to the debate, which would have been the 13th of the Republican primary cycle.
The billionaire candidate has had issues with Kelly since the very first debate of the cycle in August, when she confronted him about his history of misogynistic remarks.
The other guys: Trump is way up in the delegate count, but nowhere near the 1,237 he needs to win the nomination outright.
Kasich, who took his home state of Ohio in Tuesday's primaries and claims his campaign will pick up steam despite the current delegate math, also refused to show up unless Trump did, per top campaign strategist John Weaver:
The move boggled political observers who said Kasich could have used the air time to make his case in a Trump-free environment, but others called it a clever way of denying Ted Cruz another opportunity to make his case on national television as the party's best hope.
Cruz, the Texan running second to Trump overall, took to Twitter to taunt the frontrunner: 
Bottom line: Cruz can hound Trump all he wants, but the math — at this point — speaks for itself, as does Trump's ability to derail the debate schedule for the entire GOP.
Trump's not the Republican nominee for president yet. 
But flexing his political muscle this way shows how comfortable he is playing the role of frontrunner — and his latest Instagram video shows that he's already looking past the primary and ahead to a general election fight against Hillary Clinton.