Samantha Bee Starts #SmileForJoe Twitter Campaign Against MSNBC Host Joe Scarborough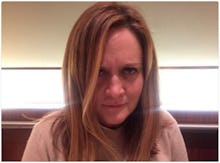 While Democratic frontrunner Hillary Clinton had a successful Tuesday with the five states voting in the primaries, there was one issue with her victory speech, according to male pundits: She didn't smile enough. MSNBC anchor Joe Scarborough was the headlined instigator, directing in a tweet that the former Secretary of State "smile" after her "big night." 
Samantha Bee — host of the new TBS late night show Full Frontal — didn't agree with Scarborough's slight. In response, the comedian has started a #SmileForJoe campaign on Full Frontal's Twitter, beginning with a photo of herself frowning, coupled with the caption: "Ladies, it's very important that you #SmileForJoe."
Now, Bee is retweeting similar photos from other women directed at the MSNBC host. 
Read more: Hillary Clinton Should Have Smiled More, Shouted Less — Says Male Pundits
Get the five stories that will challenge you to rethink the world by signing up for MicCheck Daily.