Hackers Are Breaking into Muslim Fashion Instagram Accounts, Posting Donald Trump Videos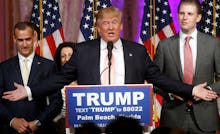 There have been a string of attacks on major Muslim fashion Instagram accounts, after Australian journalist Jennine Khalik tweeted Tuesday that hackers were "posting Donald Trump videos on at least one account and emailing fashion houses with anti-Muslim messages," according to Cosmopolitan. 
"Australian brand Hijab House are being threatened, and so are two Muslim fashion bloggers that go by @NabiilaBee and @mariammoufid," Khalik tweeted. Apparently the hacker, called blurryxans, took over the Hijab House Instagram account and deleted all of the photos. The police are currently investigating the threats made to the Hijab House account. 
Read more: Banning Muslims From Entering the U.S. Was a Top Priority for Tuesday's GOP Voters — Again
Another hacker allegedly gained access to the @hijabmuslim account after its owner, Maria Moufid, received a message saying her Instagram account was ready to be verified.