8 Thrifty Outdoor Date Ideas to Take Your Bae on Now That It Isn't Miserable Outside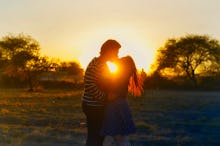 Winter is over! Come out of your Netflix caves, everyone. Now that warm weather here, it's time to start doing outdoor activities again, including going on adorable outdoor adventures with your boo. Whether it's your first date or your 100th, here are eight thrifty date ideas that keep you outside and enjoying the warm weather.
Read more: Romantic Comedies Are Actually Ruining Our Relationships, Says Study
Go to a drive-in movie
Drive-ins aren't just a thing of the past. There are still drive-in movie theaters around the United States, though it might take some Googling to find the one nearest you. But what's more romantic than cuddling up under the stars while you watch a movie in your car? 
Have a picnic
A picnic is the ultimate low-budget outdoor date. All you need is a patch of grass, sandwiches and cold drinks. Of course, you can always jazz it up with fancy ingredients and a checkered tablecloth, but those aren't even necessary.
Go swimming
There's nothing like the water to make memories. Whether it's a beach, a lake or a swimming hole, pack some towels and bathing suits and get going! Bonus points if you bring some inflatable rafts to float on.
Go to an outdoor concert
No matter where you are, there are usually lots of fun (and free) shows and events to check out during the summer. Look online for an outdoor concert or event that you and your date can enjoy together.
Go for a hike
There's nothing like the sense of accomplishment you'll get from hitting the trails and reaching an awesome view or a gorgeous waterfall. Just make sure to wear the right shoes and pack lots of water!
Browse a flea market
You don't have to spend money to have fun at a flea market — you can happily spend hours looking at the cool vintage items for sale without spending a penny.
Ride bikes together
Pick a fun destination to bike to together, the possibilities are endless. The journey is half (or more) of the fun. Just remember to wear your helmets and brush-up on your hand signals, because nothing is sexier than someone who knows all about bike safety.
Find a county fair
County fairs are the best, they have rides and funnel cakes and stuffed animals, and did we mention funnel cake? Find one near you and go to there. ASAP.