The Best and Worst Reasons Why Couples Have Broken Up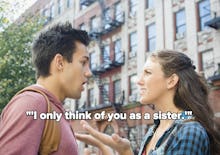 Mic/Getty
"It's not you, it's me." 
But sometimes, let's be honest, it is you. Like you didn't wash your hands after eating Cheetos, wore too much plaid or supported Donald Trump. 
Some relationships just aren't meant to be. Mic asked its Tumblr followers the real reasons they broke up with their S/O. 
And it got real:
Read more: What To Watch on Netflix After a Breakup That Won't Make You Hate Yourself