Michelle Obama Shares How Young Girls Can Overcome Doubters — and How She Did It Herself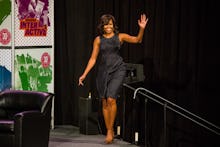 AUSTIN, TEXAS — First Lady Michelle Obama is nothing if not confident. Before her husband became president, she was a Harvard-educated attorney and a powerful force on the campaign trail. Since then, she's pushed forward several people-focused initiatives, including the Let's Move! campaign and her new Let Girls Learn movement that aims to educate 62 million girls all over the world.
But it was at her South by Southwest keynote promoting that new movement that Obama shared a not-so-surprising reveal: The first lady has had to deal with a lot of haters.
Read more: Missy Elliott and Queen Latifah Discuss the One Thing That's Missing From Hip-Hop
"Growing up as a black girl on the south side of Chicago ... there were always people telling me what I couldn't do," she told the crowd assembled for her Wednesday keynote. "My reaction to that at that time was to prove the doubters wrong. That spurred me, like, 'I'll show you.'"
Obama found "strength" in triumphing over those low expectations. "But not every young person reacts that way. There are young people whose dreams get snuffed out [because of] negative energy."
What's the solution, then? Simple: teamwork. The power girls have together is a mighty force — as could be evidenced by the collection of women onstage with Obama: songwriter Diane Warren, actress Sophia Bush, rapper Missy Elliott and moderator Queen Latifah.
"The whole purpose of this is that we all galvanize [each other]," Latifah said of the group onstage. Obama agreed, pointing out that groups of people getting each other fired up are the keys to actually making an impact.
"That's how change happens," Obama said. "It happens from the bottom up. It happens because — in particular, young people — they find their voice and use it every single day."
It's vital, however, for those young girls to have a voice at all. So when one guy in the audience asked what men can do to be better allies, Obama emphasized inclusion.
"When you have a seat at the table and you have access to power, ask yourself: 'Is there diversity around the table?'" she told him. "We reach better answers when there's a broad array of voices at the table."
To find out more about Let Girls Learn and how to get involved, visit the campaign's website.