Classical Music May Be the Secret to Taking Your Sex Life to the Next Level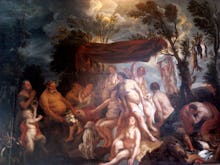 While the sounds of Beethoven and his friends may be more familiar in the hallowed halls of churches, hold music and your local DMV — the great masters of previous centuries can provide inspiration in all areas of your life, including — believe it or not — the bedroom. 
Judith Ann Peraino, a professor of music at Cornell University, said the phenomenon of music as a form of arousal goes back to the Sirens of Homer's Odyssey, which she described as "one of the earliest texts that describes an ecstatic psycho-sexual experience of music." 
"Italian [music] of the 16th and 17th century are full of intentionally erotic music writing in which voices intertwine and create dissonances, along with all sorts of tension and release patterns," she said.
And it's far from just the narrow confines of Renaissance Italy where you can find sensuous rhythms. Across the centuries, classical music of all eras has inspired and enticed. "The love chord that we hear in all those 1930s, 1940s movies, a lot of that sound — the very lush orchestral score — it comes from Wagner, from the Ring cycle," said Justin Patch, an adjunct assistant professor at Vassar College. "There are tons of examples we can pull up."
So if "ecstatic psycho-sexual" sex set to "love chords" gets you going, consider these fine pieces to help you get there.
If you want somber and sensuous... 
Try Thomas Tallis' "Spem in Alium" (circa 1570)
Whether you're a classical savant or have never listened to a note of Mozart in your entire life, there are few who could deny the inherently graceful and sensuous sounds of Tallis' 40-part motet, "Spem in Alium" (which translates to "hope in any other"). The Renaissance-era devotional can have a second act putting you in the mood and breathe new life into the missionary position. 
It also happens to be a favorite of Christian Grey, the titular stud of 50 Shades of Grey and a man of unconventional desires.
If you want passionate and angry...
Try Pyotr Ilyich Tchaikovsky's "Souvenir de Florence" (1890)
Near the end of his life, composer Tchaikovsky showed that he could still rustle up the hot blooded passion that was typical of much of his earlier career. It is on evident display in his tempestuous Souvenir de Florence.
If you've finally conquered the paramour of your dreams... 
Try Tchaikovsky's "1812 Overture" (1880)
Tchaikovsky wrote the overture to commemorate the Russian victory of France during the Napoleonic wars. Complete with live cannon fire, you can expel your own French armies while listening to it and rout Napoleon Bonaparte in bed seven days a week. 
If you want something that screams "Use the Force, Dad"...
Try John Williams' Imperial March (1980) 
There has been some great classical music written by people who are still alive today. Case in point is Williams' "Imperial March." Darth Vader's instantly iconic theme could also make for a fun time for those favoring costumes, roll play — or perhaps even a bit of bondage.
If you're a celebrated master of seduction... 
Put on this version of Antonio Vivaldi's "Cessate omai cessate." (circa 1700)
Few things are as inherently seductive as the human voice and few voices more so than countertenor Andreas Scholl's performance of Vivaldi's "Cessate omai cessate." The baroque master's devious opening approach evokes a classier era of seduction from masters like Cleopatra and Don Juan, and will crank the passion up to 11.
And the genre provides a little something for the fetishists among us, however... idiosyncratic those preferences.
For those craving tickling, biting or other such... delights...
Opt for Nikolai Rimsky-Korsakov's "Flight of the Bumblebee" (1899).
Rimsky-Korsakov's most famous composition, the Flight of the Bumblebee was composed for his now forgotten opera The Tale of Tsar Saltan. The fastidious buzzing of the instruments evokes images of all manner of obsessive fetishes and can set the mood for anything from tickling, to scratching, to biting to being covered in small creatures (it's a thing). 
And if you're simply thinking, fuck it, let's just have sex...
Try Erwin Schulhoff's "Sonata Erotica" (1919).
Sometimes you have to throw subtlety out the window, so we conclude this list with the Dada-inspired "Sonata Erotica." The nearly four-minute piece consists exclusively of a solo female voice having a protracted orgasm. Nearly one century after its writing, "Sonata Erotica" remains the gold standard of what sexual pleasure should sound like.
Even if you don't speak German, I'm pretty sure we all know what this woman is saying.