Over 130 Sexual Assault Survivors Write to Sony as Label Still Hasn't Dropped Dr. Luke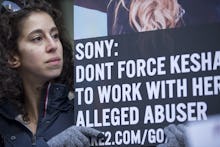 Sony Music has yet to end their contract with music producer Lukasz "Dr. Luke" Gottwald, who is accused of sexually assaulting pop star Kesha for a number of years, despite the Wrap reporting last week that Sony insiders are planning to terminate the relationship. Sony's silence has been heard by countless entertainers and sexual assault victims, who have now decided to take action.
A national advocacy group for women called UltraViolet solicited the help of over 130 sexual assault survivors and their families to construct a letter to Sony Music Entertainment CEO Doug Morris to "take a stand against sexual assault and not renew Sony Music Entertainment's contract with accused rapist, Dr. Luke," according to the letter sent to Mic in a press release. 
Read more: One Tweet About Kesha Reveals a Double Standard in the Music Industry
UltraViolet also created an online petition that demands Morris to cut all ties with Dr. Luke this year. So far, over 31,500 signatures have been added to the petition, according to the press release. "By continuing to force Kesha to work for Dr. Luke, Sony is sending a clear signal to music fans around the world — that they stand with rapists and against survivors," UltraViolet's Shaunna Thomas said in a statement sent to Mic. 
"Sony Music executives should listen to survivors of sexual assault and capitalize on the opportunity to send a clear signal to music fans and performing artists around the world that rape and sexual assault will never be tolerated."
Read the full letter below: 
"Dear Mr. Morris,