6 Ways to Exercise Outdoors in the City Now That Winter Has Thawed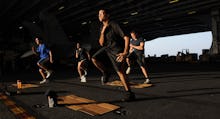 Now that the temperature is getting warmer, you probably don't want to confine yourself to a stuffy gym. Conversely, perhaps you were only hitting the indoor gym throughout the winter because you didn't want to contend with the frigid temperatures and copious snow. Either way, with the spring's imminent arrival, as well as the summer thereafter, you now have plenty of options to get exercise into your daily regiment that don't involve a generic gym membership.
Read more: This Washing Machine Requires No Electricity — Just a Little Exercise
Parkour is a form of course training that involves running, climbing, jumping, swinging and vaulting. The discipline was founded by David Belle in the 1990s with a philosophy of overcoming physical and mental obstacles.
2. Jogging
Speaking of running, the warmer weather is perfect for a jog outside. While jogging and running are obvious ways to burn calories, running outside is beneficial due to subtle terrain changes, which forces your body and muscles to adjust. 
3. Cycling (not the SoulCycle variety)
A 2014 study showed that, compared to cycling with a trainer, riding your bike outside "allow[ed] cyclists to exercise at a higher intensity." Furthermore, you're not constrained by a certain time limit and don't have to fight over your preferred bike and spot in a group class.
4. Trapeze
If you're not afraid of heights, trapeze can be a fun way of getting some aerobic cross-training because it emphasizes core and upper-body strength. Inadvertently, it can also help promote mental health since the exercise requires trust in both the instructor and oneself in doing something one wouldn't normally do.
5. Pick-Up Games
Now that you don't have to contend with inclement weather, basketball courts and playgrounds (either concrete or grass) are available for group pick-up games – the epitome of "exercising without knowing it" because the fun factor distracts you from all the aerobics. An hour-long game of basketball or football, for example, can burn nearly 600 calories.
6. Swimming
Speaking of seasonal activities that are really exercises in disguise: swimming! In addition to being one of the best ways to cool down when the weather gets too balmy, swimming is an ideal exercise because it keeps your heart rate up without inflicting too much stressful impact onto your body. Furthermore, swimming is an all-around exercise that helps build muscle strength and endurance.