Are Rob Kardashian and Blac Chyna Filming a Reality Show? Rumors of a 'ChyRo' Show Swirl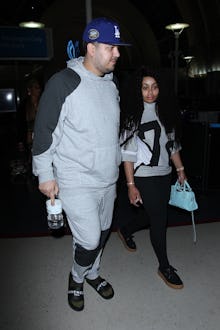 Perhaps Rob Kardashian's relationship with Blac Chyna, a model and the mother of rapper Tyga's child King Cairo, won't be as enigmatic once the two have their own reality show. Kardashian and Blac Chyna, who prefer to go by their self-appointed celebrity couple nickname "ChyRo," seem to be vying for their own Keeping Up With the Kardashians spin-off show, according to multiple reports.
"Rob and Chyna are hoping for a spin-off," a source, who was not identified, told People magazine in an article published Tuesday. "Chyna doesn't want to film with Rob's family. They both think a spin-off is the best business decision. They have had meetings and things look promising."
Read more: Rob Kardashian Blac Chyna Dating Update: ChyRo Posts Instagram Photo, Sets Record Straight
The news comes just one week after Kardashian was forced to set the record straight on Instagram about his budding romance with Blac Chyna, when publications (People included) suggested the two had split.
"Chy and I are not broken up we just feel like it would be a lot healthier for our relationship if we kept a lot more to ourselves," Kardashian captioned the above photo in a lengthy message that has since been deleted from the post. "It's impossible to have a positive relationship with so much negativity from the media and outsiders and we would appreciate it if everyone respects that -ChyRo."
If Kardashian does in fact develop a spin-off show from his family's everlasting reality series, he wouldn't be the first: Kourtney and Khloé Take Miami, Kourtney and Kim Take New York, Khloé & Lamar and Kourtney and Khloé Take the Hamptons are just some of the series which have been produced surrounding the Kardashian family since KUWTK's inception.
Still, take it with a grain of salt: The report from an "insider" informed them of the new series is from the same publication that reported a "source" had informed them of ChyRo's breakup last week. Still, we can't say we don't miss seeing Kardashian's face every now and again.