4 Bomb Vegan Marijuana Edible Recipes for the Vegan Foodie Pot Lover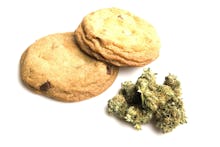 Most marijuana edible recipes involve tons of butter, eggs and other dairy ingredients vegans wouldn't touch with a 9-foot pole. But alas, it's possible to get high off delectable vegan treats.
Here are four bomb vegan recipes that also happen to include your favorite plant:
Read more: Marijuana Legalization Pennsylvania 2016: Will State Legalize Medical Cannabis?
"Ingredients:? cup Cannabis Coconut Oil, warmed to liquid
"Ingredients:Use the food processor to pulse rolled oats and walnuts into a powder.Add dates, vanilla extract, cocoa powder, Cannabis Coconut Oil and salt. Process until everything is mixed together.Transfer raw Canna-Brownie mix to a lined baking sheet. Press batter down to flatten and shape. Rest brownies in fridge for a few hours to set.Mix almond butter, maple syrup and cocoa powder together. Spread glaze on top of chilled brownies before serving."
"Ingredients:
"Ingredients:
Remember, you can make most recipes vegan by swapping out eggs for applesauce (1/4 cup of applesauce per egg) and dairy milk for soy/almond/coconut milk.