Matt Damon and Ben Affleck Are Making a Reality Show About Hunting a Person Down IRL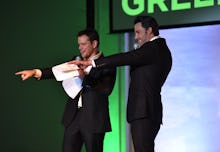 For anyone who's ever felt compelled to hunt someone down, there's soon to be a reality show that will use the active participation of its audience to accomplish this, and Matt Damon and Ben Affleck are to thank for it. According to the Verge, Damon and Affleck are creating a new reality show called The Runner that will stream exclusively on Verizon's Go90 video app this summer. 
On The Runner, a certain individual, as yet unnamed, will traverse the country in less than a month. There will be "countless participants," including the viewers, who will help track the person down in what is essentially a nationwide manhunt. The series will be produced by the same company as the duo's HBO series, Project Greenlight. 
The Runner was initially greenlighted in 2000 by ABC but was later dropped after the 9/11 terrorist attacks. The concept was eventually picked up by Yahoo — who have since folded their Yahoo Screen platform, where it would've aired — before being picked up by Verizon. 
It might seem odd at first to have an entire series featured solely on a video app, but it's a trajectory that the producers believe will best capture their target audience: millennials. "The Runner is our way of meeting a millennial audience where they live — on their smartphones and on social media," said Project Greenlight Executive Producer Marc Joubert, according to Deadline. 
In the meantime, if you'd like to be hunted, you can sign up to be the inaugural "runner" — or part of the "chasers" team — here. If you have the acrobatic skills of James Bond, chances are you're a good candidate. 
Read more: This Man Just Guessed How Much the Movies Have Spent "Rescuing" Matt Damon
h/t the Verge