Trump Says There Will Be "Riots" If He Doesn't Win the Republican Nomination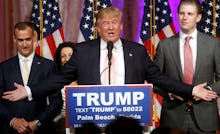 Donald Trump is quickly developing a reputation for being a man fond of violence, and he's reveling in it.
During an interview with CNN Wednesday morning, the billionaire real estate magnate said that he was hopeful that even after a bruising Republican presidential primary he'd be able to unite the GOP. 
"I think there is a natural healing process. I've gotten along with people all my life," Trump told CNN, as New York magazine reported.  "I think it'll happen again ... I think we'll win before the convention."
Read more: Republican Debate in Salt Lake City Canceled After Donald Trump and John Kasich Back Out
But Trump sounded decidedly darker about how things would turn out if he falls short of the number of delegates required to win the nomination.  
"I don't think you can say that we don't get it automatically. I think you'd have riots. I think you'd have riots," he said. "I'm representing many, many millions of people. In many cases first-time voters ... If you disenfranchise those people? And you say, well, I'm sorry, you're 100 votes short, even though the next one is 500 votes short? I think you'd have problems like you've never seen before. I wouldn't lead it, but I think bad things will happen."
So Trump foresees a healing process if things go his way with the nomination, but riots if they don't. And he's not going to back those riots, but he somehow knows that in an otherwise peaceful political process, violence will transpire in his name.
Sounds a bit more like someone looking to exploit social divides rather than bridge them. But the more troubling thing is that given the way that Trump's rallies are going these days, he's probably right.