Nicki Minaj and Bebe Rexha's New Song "No Broken Hearts" Is the Breakup Anthem You Needed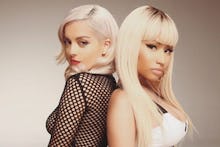 Albanian American artist Bebe Rexha dropped her latest club anthem "No Broken Hearts" on Wednesday, featuring rap powerhouse Nicki Minaj. The song is available for streaming on Apple Music, Spotify, Tidal and Soundcloud, and is available for download on iTunes. 
Minaj excitedly teased fans with a picture of her and Rexha on Instagram, captioning the image with a link to the song on iTunes, as well as some of her lyrics: "My sons, I'm givin' em MILF teas, they b sweatin' me head bands and gym tees, like bad knees on Dirk Nowitzki, it is going down like M. Lewinsky." 
Read more: 8 Nicki Minaj Songs That Prove She's the Queen of Rap
The song is an electric-pop mesh with a heavy beat, sure to make waves at your next house party. Minaj comes through with yet another tight rap, while the lyrics focus on drinking, partying and liberating oneself from sadness.
Rexha sings in the chorus: "No broken hearts in the club/ No tears in the club/ 'Cause we gon' get it poppin' tonight/ No broken hearts in the club/ More drinks, pour it up/ 'Cause we gon' get it poppin' tonight."
While Minaj focuses on her usual dose of sexually-charged edginess during her verse: "Ay yo Bebe, anyone hatin' need a pee pee/ Sip a little mix, pop pills till I'm sleepy/ I'm the one that bust it open out in Waikiki/ Pull up in the Ghost I'm creepy/ They don't want beef we proved it/ Niggas better keep it on wax like a Q-tip/ Keep his dick wetter than the cruise ship. Flower than a tulip, flyer than your new bitch."
Meanwhile, Minaj is far from a broken-hearted girl — at least according to the huge rock on her finger.