Who Is Toby Kebbell? Meet One of the Stars of the New 'Ben-Hur' Movie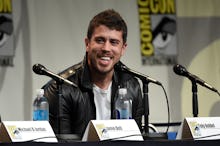 Toby Kebbell already has several blockbuster films under his belt, but he may finally be on the verge of becoming a household name. The 33-year-old British actor will play Messala in a new remake of Ben-Hur, Variety reported on Wednesday. 
Read: Don Cheadle Had to Hire a White Co-Star to Get Investors to Pay for His Miles Davis Movie
The remake of the 1959 Charlton Heston epic will star Jack Huston in the title role as Judah Ben-Hur, Morgan Freeman as a wise sheikh and Kebbell as the adoptive brother who betrays Ben-Hur and accuses him of treason, condemning him to years of enslavement. If the first trailer, released this week, is any indication, the film will feature lots of sandals, swishy capes and, of course, chariot racing.
Kebbell is originally from Newark, U.K., and first began acting as a child. "I went to a Catholic primary school. We did the Passion Play and I never got to play Jesus and I was p***ed, man," Kebbell told the Herald Scotland in 2007. "My ambitions have changed slightly, but that's how I got started. I got to play innkeeper number one, the one who just says no. Not even the one who shows them to his barn. Even at a young age I had the urge to be the centre of attention, that's what it is. And I'm good at lying."
Recently, Kebbell has appeared in several action movies, including Fantastic Four, Dawn of the Planet of the Apes and Wrath of the Titans. He will also appear in several upcoming films, including Warcraft and A Monster Calls. 
Kebbell seems set to accomplish the goals he laid out for himself back in 2007, when he told the Herald Scotland, "I very much choose roles that I find something in. But I want to be disgustingly rich. I do. I'd love to be extremely rich — and I think if that opportunity arose, I'd grab it."