Beyoncé Casts a Model With Muscular Dystrophy to Show Off Her Latest Merch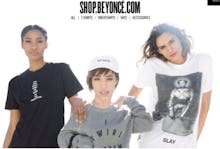 Beyoncé has power, and over the past few weeks, she's utilized that that power to start meaningful conversations, whether it be about race, black beauty or motherhood. 
Now, she's utilizing that power to start a conversation, via her website, about who can be a model, and what they can look like.
The latest model Beyoncé has hired to show off her merch is Jillian Mercado, who has muscular dystrophy and uses a wheelchair. The shoot was made official Wednesday on the Facebook of IMG Models, the agency that represents Mercado.
Hours later, Mercado announced the news on her Twitter, with the appropriately enthusiastic message: "OK LADIES now let's get in FORMATION! I'm on the official Beyoncé website!!!" 
Over on Beyonce.com, Mercado models a slew of some of Beyoncé's latest "Formation" merch, including a white T-shirt with a photo of Queen Bey in a suit of armor over the word "slay" (natch), a black T-shirt that reads "you that bitch when you cause all this conversation" (obviously) and a gray sweatshirt with "I twirl on them haters" painted across the front (because of course). 
With Mercado's inclusion in the new shoot, Beyoncé, veritable queen of the planet, proves that anyone is fit to wear her merch, whether they're seated or not. 
Mercado, who Mic has reached out to for comment, has been making waves in the modeling world since 2014, when she landed a campaign for Diesel Jeans. Soon after that, she posed for Nordstrom's anniversary sale catalog, along with three other people with disabilities. 
Since then, more and more people have been getting the seated style they deserve. Tommy Hilfiger recently released a collection for kids with disabilities, and student Lucy Jones won Parsons' Womenswear Designer of the Year in 2015 for her "Seated" collection. 
That same year, Mercado actually admitted that she hadn't previously thought modeling was a possibility for her at all, telling the Wall Street Journal, "Growing up I didn't think of [modeling] as being a possibility, and I was a little scared about throwing myself into it. When I was younger, I didn't see anyone out there like me doing this very thing."
So if a model like Mercado can now land a Beyhive gig and help Beyoncé's website reflect the diversity of her fan base — who knows where the conversation will go next?