10 Top-Rated TV Shows That Take Over Your Twitter Timelines When They Air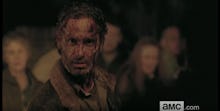 Nowadays, the best platform to express your rage, joy or any emotion in between for a television show is best served on Twitter. The social media platform essentially works as a communal TV viewing experience, where fans can interact with fans, and actors, networks and series accounts can chime in as well. 
While there are plenty of shows on, frankly, an unsettlingly high number of networks, the most popular shows on Twitter are a diverse mix of genres — ranging from post-apocalyptic zombies and reality dating shows to a parks department in a fictional Indiana town. Here are the 10 shows, statistically speaking, that stood above the rest in 2015 (all stats provided by Nielsen, through Variety).
Read more: The 8 Most Shocking 'Walking Dead' Moments That Remind You It's Always Unpredictable
1. The Walking Dead
Unsurprisingly, the AMC series topped the list with 3.98 million people viewing tweets about the show — and it's hard not to see why. The show has exciting group politics and internal conflict that raises the drama. It's set in a post-apocalyptic zombie wasteland, so that's pretty cool too. 
2. The Bachelor
The ABC reality series has an interesting, love/hate Twitter fanbase, and its social media success certainly hinges on its ability to infuriate viewers with annoying participants. 
3. Game of Thrones 
With the constant shocking twists on this unforgiving HBO drama — including two deadly weddings and a man getting his face crushed by a much, much larger man — there are plenty of scenes on Game of Thrones that warrant a tweet or two. In 2015's case, over 3 million. 
4. The Bachelorette
The Bachelor spinoff on ABC gets a similar amount of love in the Twitterverse — and demonstrates the effective reach of a popular reality show.  
5. Empire
It's unclear how long the Fox series will last — the premise is based off the lead character's unfortunate medical diagnosis that will leave his company with a new heir — but as long as it's on TV, Empire will undoubtedly capture viewers and Twitter alike. 
6. American Horror Story: Hotel
The renditions of the FX anthology series have pivoted well — and are consistently creepy to boot. As such, it'll undoubtedly capture millions of tweets and viewers so long as it's creating unsettling, but entertaining backdrops each season. Having Lady Gaga in Hotel doesn't hurt, either. 
7. Pretty Little Liars 
The Freeform complicated drama draws a plethora of twists and turns over — initially — who is the mysterious "A" is, and the secrets from the group of girls the show is based off of. It's not American Horror Story creepy, but at times, it does get eerily close.  
8. Scandal 
Handling scandals, as the name suggests, draws a lot of drama from the ABC series — though to be sure, we all know Olivia Pope can handle whatever comes her way. She'll elicit that praise on Twitter nonetheless. 
9. Parks and Recreation
The fictional town of Pawnee, Indiana, has left the airwaves, but the final nostalgic-filled season of Parks and Recreation left many longtime fans with a bittersweet goodbye. Appropriately, the final, one-hour episode drew a #ParksFarewell hashtag that spread like wildfire. Really, the only way you could've avoided it would be to follow Ron Swanson's lead.
10. Grey's Anatomy
Barely any of the original cast remains on the series, but still, the soapy ABC drama is apparently timeless. If we're being honest, though, it's hard to move on without Derek, #RIP.  
h/t Variety