Excuse Us While We Print These Nicki Minaj Quotes and Send Them to Our Significant Others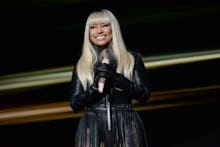 We may only understand half of what she says when she's spitting rhymes. But when Nicki Minaj slows down for an interview, she occasionally drops some wisdom.
The rapper recently spoke to Nylon magazine for the April 2016 issue and touched on her relationship with Meek Mill (you know, the guy who gave her that massive diamond ring that everyone went crazy over, but chill, guys, they're not actually engaged).
We know that the phrase "#RelationshipGoals" is often invoked when seeing an adorable couple pose together on camera, or help one another up the red carpet. But can we say that Minaj, speaking about her own independence from Mill, are actually the kind of true relationship goals that most women want to hear?
"When [Meek Mill] and I were just friends, he would always say, 'You remind me of my mother, and I like that because you're like a dude. You're tough like a guy and you talk like a dude,'" Minaj told Nylon. "So I always got the sense that me being tough and bossy was a turn-on for him."
"And it's important for me to keep my voice," she added. "Being in a relationship shouldn't mean that you lose your voice. Being in a relationship should mean that you've met a secure-enough man to allow you, in a sense, to remain a queen."
That unapologetic independence — and wanting her partner to fully endorse that independence — has been Minaj's motto for some time. She sounded a similar note in 2015, in a joint interview with her boyfriend for GQ.
"People tell me all the time, it takes a special kind of man to be with a woman who has her own, and it takes a special kind of man to not feel insecure by a woman who is doing her own thing," she said. "So, one of the things that made me want to be with him is we spent so much time talking, and he always made me feel like he was OK with me being me."
In an era in which powerful women are still judged, and some men still feel insecure about their female partners' success, we hereby declare Minaj's quotes as the #RelationshipGoals to strive towards.