Taylor Swift and Calvin Harris Abandoned Their Cat Parent Duties For a Tropical Vacation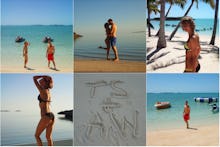 Taylor Swift and her boyfriend Calvin Harris made quite the splash on the internet this week when they posted Instagram photos of their recent romantic island getaway. According to the couple's Instagrams, they are blissfully in love and having a better time than you ever will in your bleak, petty, meaningless life.
Yet there's one thing — well, actually, two things — missing from the photos: Swift's cats, Olivia and Meredith. 
Which begs the question: While Swift and Harris (who has been Taylor's go-to cat-sitter in the past) were off making out and jet-skiing, who the hell was watching Olivia and Meredith?!?!?! 
We would like to humbly submit a few hypotheses.
Olivia and Meredith could be all alone in Ms. Swift's $19.9 million New York City penthouse, plaintively meowing from one of her antique chairs while gazing out at the Hudson River, wondering when their absentee mother, who just haaaad to get that D, will return. 
Or perhaps they are in the care of Scott Kingsley Swift and Andrea Swift, Taylor's parents, both of whom have reportedly looked after the cats before.
Either way, from the above Instagram photos, we can draw one conclusion and one conclusion only: Taylor Swift and Calvin Harris are extremely negligent cat parents.
Here is Taylor Swift bouncing on a giant trampoline and jumping into the ocean, all while not thinking about her cats:
"Hope the D was worth it" — Taylor Swift's cats, probably.