2016 Election Predictions: Who Would Win in a Trump/Clinton/Cruz Face-Off?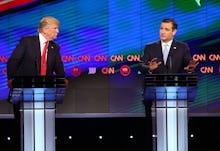 After Mega Tuesday, it's pretty much decided that Hillary Clinton will be the Democratic party's nominee for president. With Marco Rubio out, and despite Ohio Gov. John Kasich's early sweep of his state, the Republican contest looks likely to become a one-on-one battle between frontrunner Donald Trump and Texas Sen. Ted Cruz. The question is, how would Trump and Cruz fare matched up against Clinton?
Read more: Samantha Bee Tears Donald Trump, Ted Cruz Apart: "Even God" Doesn't Want to Deal Cruz
Trump's already sharpening his knives, having released a new campaign ad Wednesday that features Clinton barking like a dog, an indication that he sees Clinton — who leads Sanders 1,606 delegates to 851 for her party's nomination — as his primary adversary in the general election. With 673 delegates to Cruz's 411, Trump is the number one adversary for both the GOP and the Democrats. But Cruz still believes he's the only man who can defeat the Donald. 
"Nobody else has any mathematical possibility whatsoever," Cruz said in a speech from Texas Tuesday night. "Only one campaign has beaten Donald Trump over and over and over again. Not once, not twice, not three times, but nine times all across the country — from Alaska to Maine."
According to the latest figures from Real Clear Politics, Clinton would beat Trump by an average of six percentage points, charting 47.3% support to his 41.0%. She would not necessarily beat Cruz, though — he's ahead of her by a very slim margin of 0.8%. 
Why the disparity? Trump's gained steam thanks largely to the bluster of some very angry white men who are dissatisfied with establishment politics, of which Cruz is very much a part. Some Trump voters are Democrats, some are Libertarians and none of them seem likely to vote for Cruz. 
If Clinton knocks Vermont Sen. Bernie Sanders out of the race for the Democratic nomination, an estimated 33% of his support base wouldn't vote for the former Secretary of State, even though Sanders himself would get behind her and would reportedly urge his camp to do the same.