SeaWorld Announced Its Current Family of Orcas Will Be Its Last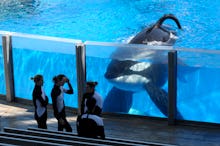 Following closely on the heels of news that Tilikum, the killer whale at the center of 2013 documentary Blackfish, is dying from chronic health issues, SeaWorld officials announced Thursday it would stop breeding orcas.
SeaWorld's president and CEO Joel Manby said in a statement, "By making this the last generation of orcas in our care and reimagining how guests will encounter these beautiful animals, we are fulfilling our mission of providing visitors to our parks with experiences that matter."
In light of the news, Manby also announced a new partnership between SeaWorld and the Humane Society of the United States, and emphasized the Orlando, Florida, theme park would continue its policy of not collecting animals from the wild.
Last year, SeaWorld promised that 2016 would also mark the end of killer whale shows at their San Diego location, noting that a conservation-themed exhibit would take its place, and visitors would have the opportunity to see the whales in a more "natural setting."
Manby assured fans the theme park giant would "introduce new, inspiring, natural orca encounters, rather than theatrical shows, as part of its ongoing commitment to education, marine science research, and rescue of marine animals."
"SeaWorld has introduced more than 400 million guests to orcas, and we are proud of our part in contributing to the human understanding of these animals," he wrote. 
Blackfish director Gabriela Cowperthwaite commended the move in a statement to the Hollywood Reporter, calling it a sign of "paradigm shifting." 
"Of course we want more because change should always be dynamic," said Cowperthwaite. "But breeding, expanding killer whales into international markets, all these missives once sat at the center of their business model. And they're willing to stop these practices immediately." 
March 17, 2016, 11:42 a.m. Eastern: This story has been updated
Get the five stories that will challenge you to rethink the world by signing up for MicCheck Daily.